by Regan Hornback, Victory High School Advanced Placement Student
Regan participated in Eskaton's Life Biography project as part of her high school English class.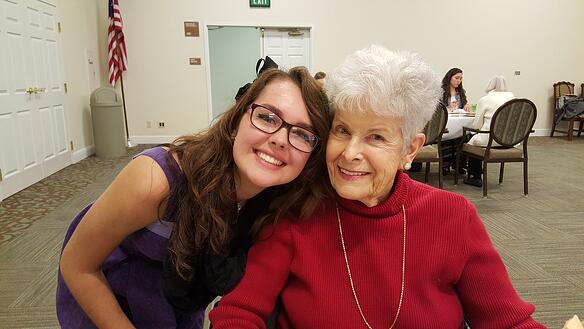 Living a full life with no regrets is not something everyone gets to experience. However, Marilyn Thomas has been blessed with a satisfying life, having done everything she ever wanted to. She currently enjoys the benefits of stress-free living at Eskaton Village Carmichael. With few responsibilities, Marilyn is able to peacefully savor her time with her husband and enhance her artistic abilities.
Marilyn grew up on a farm in Iowa, only learning the necessary subjects such as arithmetic and reading and writing. Once WWII occurred, at age 11, Marilyn's family had to sell their farm and move to Des Moines, Iowa. Marilyn explained, "What seemed traumatic at the time for my family, was God-sent for me." Marilyn discovered new talents that she reveled in -- such as art and singing. She enrolled in the University of Iowa Nursing School. Marilyn finished each day's work by reviewing the charts of her patients. She graduated in 1953 and then met her husband. The couple married after two years of dating. They celebrated their 64th anniversary in 2015.
Throughout Marilyn's life she's had the privilege of traveling the world, going to every continent except Antarctica. She was a young empty nester due to having her three children early in life. Marilyn's husband helped her accomplish her dream of becoming a gemologist and owning a gem salon for 17 years. What exactly is the secret to living out an amazing life and story? Marilyn shared: "Never go off the straight path that God has intended for you. And live a life for Him for all He's done for you."