Positive Online Ratings Lead to Recognition from Caring.com
SACRAMENTO, Calif. — Eskaton is pleased to announce receiving four "Caring Stars" from caring.com, the leading resource website used by people searching for senior care. In online ratings and reviews from older adults and their family members, four Eskaton communities earned a 5-star consumer rating (the highest possible score), while also meeting other qualifications. Eskaton Village Placerville, Eskaton Lodge Cameron Park, Eskaton Lodge Gold River and Eskaton FountainWood Lodge are among the 120 Caring Star communities in California, out of more than 7,000 residential care facilities in the state.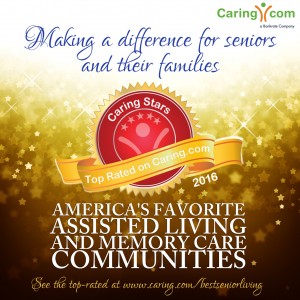 "Our mission as a nonprofit is to enhance the quality of life for older adults, and this award validates our delivery on that promise," said Todd Murch, President and CEO of Eskaton. "We appreciate every single thank you note regardless if they are handwritten or posted online. It is one of the indicators used to measure if we are successfully doing our jobs."
Online reviews help guide families when making emotional senior care decisions for aging or ailing loved ones. In multiple Caring.com research studies, the majority of family caregivers have indicated that they turn to the Internet and consumer reviews when researching senior living communities. They rely on these perspectives to understand the experiences of others in similar situations
"Congratulations to Eskaton for achieving this award after earning accolades from residents and their family members," said Andy Cohen, Caring.com CEO and co-founder, Andy Cohen. "This important milestone speaks volumes about the positive difference Eskaton is making in serving older adults, and we join with the local community in celebrating their accomplishment."
Some of the positive feedback that led to Eskaton being a Caring Star recipient includes:
• "Eskaton Lodge is fantastic. They have many activities, and the whole staff including caregivers, nurses, and the management, is all great. It makes my husband feel like he is needed…" says wife of resident.
• "The quality of care my aunt and uncle have received from Eskaton over the past two years is excellent. I find the community clean and well maintained. The staff and administration are always kind and professional," says the niece of a resident.
To learn more about the Caring Stars program and view the complete winner list, please visit: www.caring.com/bestseniorliving
Eskaton is a Northern California-based, nonprofit organization with over 45 years of experience. Our dedicated team members provide services and support for nearly 14,000 individuals per year who live in our communities or participate in our comprehensive home support services network.
With three million unique visitors to its website monthly, Caring.com is a leading senior care resource for family caregivers seeking information and support as they care for aging parents, spouses, and other loved ones. A Bankrate company headquartered in San Mateo, CA, Caring.com provides helpful caregiving content, online support groups, and a comprehensive Senior Care Directory for the United States, with nearly 100,000 consumer ratings and reviews and a toll-free senior living referral line at (800) 325-8591. Connect with Caring.com on Facebook, Twitter, Google+, Pinterest, LinkedIn, and/or YouTube.
Media Contact: Lola Rain