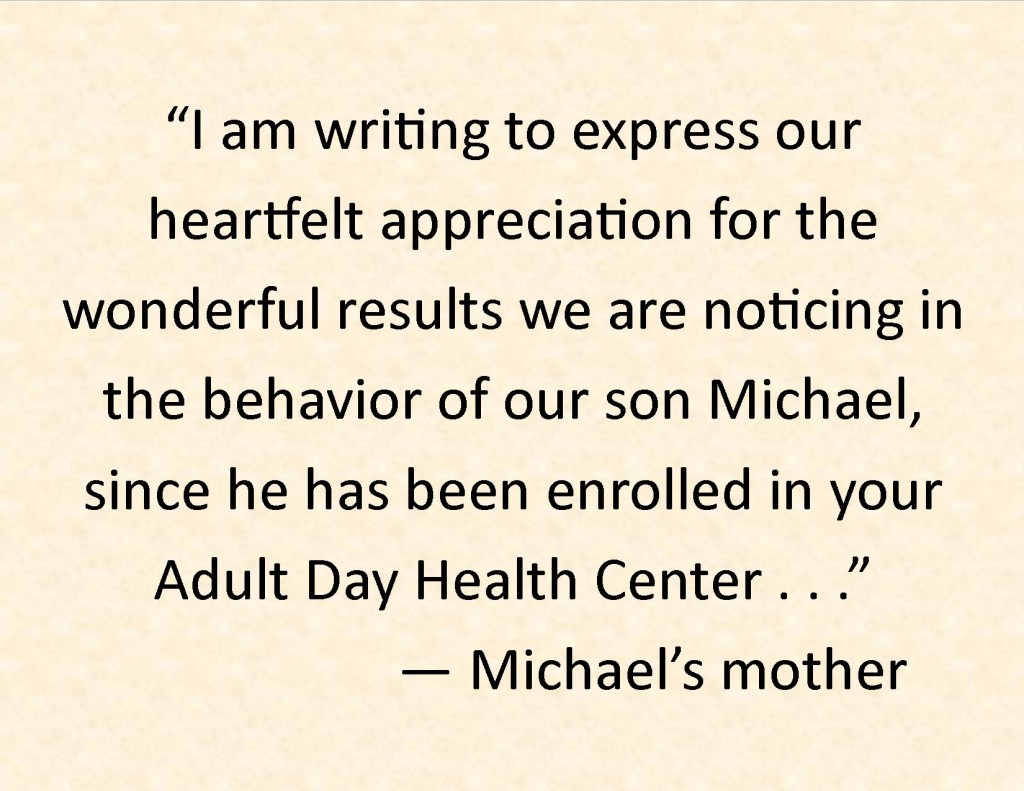 "I am writing to express our heartfelt appreciation for the wonderful results we are noticing in the behavior of our son Michael, since he has been enrolled in your Adult Day Health Center . . . Just yesterday I was talking with Michael about the pictures he has been coloring lately, commenting on what a good job he has been doing lately, and he said it was because he is much calmer now especially since we took him out of a different program and enrolled him back in Eskaton.
First and foremost we're sure the main asset that makes Eskaton so wonderful is your staff, from Daisy on down. How in the world did you find so many wonderful people to fill all these positions? Bill Plumb was instrumental in the first place to enroll Michael in your program and is such a helpful caring person, along with Ellen and Lee who are directly involved in working with Michael and the help and attention he receives from them has really made Michael so happy. They really keep him supplied with pictures of things he is interested in coloring. They are always there to supervise and Michael needs constant supervision. Daisy . . . is so approachable and available to discuss any questions or concerns which may come up. The physical therapists have been very encouraging as well. Marina the main nurse has also been "on the ball" urging us to get flus shots, which we then took care of and we love Laura. We are also pleased with Michael's bus driver Lucien who has been so helpful. All of your staff help make Eskaton quite wonderful . . .
The reason Michael is doing so well and is so happy at Eskaton, is that your program is quite structured and yet participants can make choices about projects they wish to participate in. Another reason is that all the staff make each and every participant feel special . . . By the way those wonderful healthy lunches are also a big plus! Eskaton is just one wonderful place for Michael to spend quality time and we deeply appreciate all the staff and helpers who make it that way.
We also wish to mention how beneficial the Eskaton program has been to us, his father and mother. Michael's father has serious health problems and I also have some health issues. We are pretty well housebound and we would find it pretty difficult if not impossible to keep Michael sufficiently entertained and busy without Eskaton. We are so happy that he is involved with Eskaton, that not only keeps him busy, but keeps him happy and encourages his creativity. He is so well supervised and eagerly looks forward to his days at Eskaton. We also appreciate our relationship with all the staff and the good communication we have with them. We want to thank all of you at Eskaton Adult Day Care and hope and pray this program continues. We would be lost without you." – Michael's parents
Through the Adult Day Health Scholarship Program, #EskatonFoundation is helping Mike's friends who cannot afford all the days of care they need. You too can help by joining our #GivingTuesday online giving event at https://www.facebook.com/events/901336376618291/. #80days4seniors
Click here to join our online event.