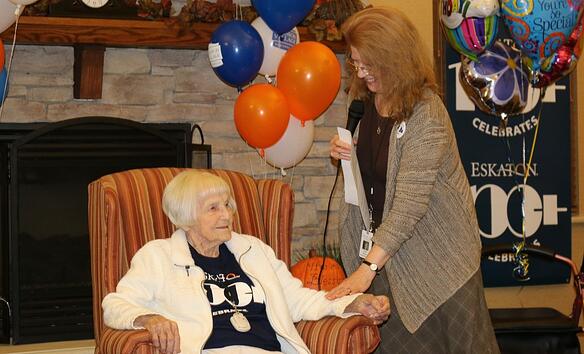 Maybelle received a letter from the White House on her 103rd birthday. She also Skyped with her granddaughter Michelle who lives in Reno. When asked, "How do you live to be 103?" Maybelle said, "Work hard." She associates her longevity to being a farmer's daughter, but her love for walking also contributed to her good health. She has won more than seven walking competitions over the years.
Maybelle, born and raised in California grew up on a farm milking cows and helping her mom with household chores. She remembers going to school in the early 1920s riding three miles in a wagon being pulled by the family donkey. Maybelle and her husband of 60 years raised two children. She has five grandchildren and 13 great-grandchildren.
Over 50 people attended Maybelle's party at Eskaton Village Placerville. The large celebration was a memorable moment for her and her family. She was presented six plaques along with a cake and cookies decorated with her photo. Guests included Mayor Patty Borelli, Bryant Milesi, aide to Congressman Tom McClintock, and Travis Johnson, district representative from the office of Ted Gaines.
See more photos at http://www.mtdemocrat.com/…/maybell…/attachment/dsc_6365e-2/
Learn more about Eskaton Village Placerville