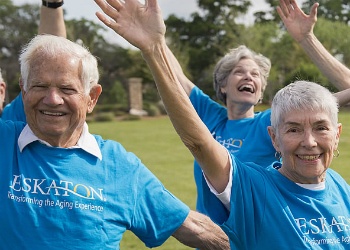 Assisted living is a lot of things: a supportive community, a comfortable living space and a place where you can find independence and care. But did you know that assisted living can actually provide a health boost?
Due to the provided amenities and services, assisted living offers a safe environment and one that often makes seniors feel more active as they have access to events, services and friendships they may not have had living at home. Many communities provide transportation to shopping, events, daily activities and restaurant-style dining to encourage eating together.
3 ways assisted living can be a health benefit:
1. It pays more to stress less.
The number one benefit of moving into assisted living is the decrease in stress for both you and your loved one. Stress has been linked to a reduction in immune system response and accelerated aging, but a reduction of stress can reverse these effects. By moving to assisted living, quite a few tasks such as laundry, yard work, cleaning and other chores that can add to physical stress subside.
Your loved one will also have more time to participate in enjoyable and enriching activities with new friends and the support of friendly staff members. When living alone, seniors often don't participate in as many activities and are at risk for loneliness and possible depression. Knowing your loved one is being taken care of and having fun can also allow you to rest easy.
2. Social interactions keep you healthy.
Assisted living can provide a great sense of community and opportunity for socialization due to being surrounded by peers and friends daily. Adults who socialize regularly are at a lower risk for depression than isolated adults. By chatting with neighbors or attending regular activities, depression can be staved off.
But the health benefits don't stop there: studies show that life-long socializers live longer than those who allow themselves to be isolated. People who socialize also tend to fight off illness better than those who keep to themselves.
3. Life enrichment satisfies.
Many assisted living communities strive to help their community members find enrichment in their lives. Communities offer unique opportunities to connect with their purpose in life and find joy in the world around them.
Some communities opt to join in volunteering while others encourage tutoring programs; intergenerational programs like Eskaton Villages' Kids Connection build a greater respect for other generations. This particular program connects a classroom of young students with adult "buddies" to build relationships and share wisdom. At the end of the day, there is always laughter, fun and a deeper appreciation for life from both the adults and the kids.