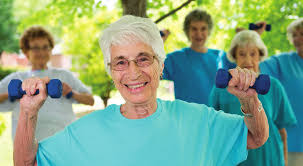 We are all aware that a healthy heart is necessary for maintaining an active senior lifestyle. Heart disease need not be inevitable. Lifestyle habits and diet can protect and maintain heart health. Incorporate the following suggestions for proper heart function today.
Heart Health for an Active Senior Lifestyle
1. Exercise routinely.
Simple exercises, such as walking or swimming and moderate aerobic exercise, can help maintain the condition of the heart and other associated organs and systems. The current recommendation is a minimum of 30 minutes of exercise almost daily, if not every day.
2. Break bad habits.
Smoking impacts cardiac health as well as causing other serious health issues. Quitting or reducing the amount that is smoked is a way to allow the body to recover prior function and improve chances of healthy and productive senior years. In addition, excess amounts of alcohol consumption contribute to heart-related problems including high cholesterol levels, arrhythmias, and high blood pressure. Moderation, if not elimination, of alcohol consumption is strongly suggested for a happy heart.
3. Reduce your stress.
Peak times of stress and high levels of stress over a long duration of time can exacerbate existing heart conditions and reduce the body's ability to function properly. Heart disease risks are compounded for seniors that are not able to reduce and manage sources of stress. Meditation, relaxation yoga, walking and exercise are ways to engage the body and help alleviate stress when it cannot be avoided. Prepare for big events and stressful discussions beforehand to reduce the likelihood of a stress-inducing situation. Spend more time with those that bring joy and positive energy into your life and reduce or eliminate time spent with those that only focus on drama or causing problems. You can create an environment that supports a calm state of mind.
4. Improve your diet.
Splurge on fruits and vegetables. Limit intake of saturated fats, red meat, salt and highly processed foods like white bread, pasta and cake. This route will also reduce the excess weight that can increase your heart disease risk. Look to stay within a healthy weight range for your size.
5. Get regular check-ups.
Make an appointment for a thorough exam and blood work with your physician. Get a baseline of your blood pressure and cholesterol levels and use examinations to inform your habits and diet. Keep conditions such as high blood pressure and diabetes under control with diet and when necessary, medication.
6. Know the factors that directly impact heart disease risk.
High blood pressure, high cholesterol, diabetes, family history and lifestyle all play a significant role that can negatively impact heart health and increase chances of a heart attack or the development of heart disease. Discuss possible medications with a trusted physician and make necessary changes to your diet and habits to improve your heart health.
Active seniors will do well to take the time to foster heart health with a range of practical recommendations that can be implemented starting today. Contact Eskaton at 888-684-6554 for more information on our programs for active seniors and for ways to keep your heart healthy.