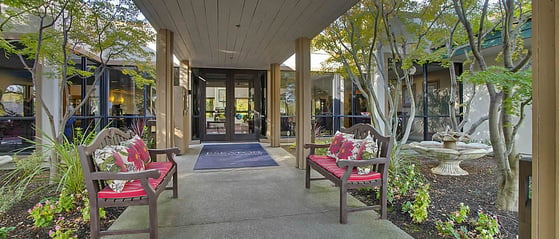 Finding the right assisted living community for your loved one is one of the most important decisions you can make.
It can also be very complex. While you worry about his or her safety and well-being, your parent may be worrying about loss of control and independence. The best scenario is a joint decision.
How to Find the Right Assisted Living Community
Visit communities together to determine the type of community that best suits your loved one's needs. Take these 7 tips into consideration during your visit:
Does the community seem fresh and clean? Look past the furnishings and into corners, baseboards and windows. Ask how often housekeeping is provided in your loved one's personal living space.
Watch and/or participate in an activity. Are the activities and events well attended? Does the staff seem to be enjoying the activity as well? Take a look at the community calendar of events. Do they match your or your loved one's interests? Do they include trips and outings away from the community?
Are staff members friendly? Do they have a positive attitude? Observe staff members as they interact with residents. Do they listen and make eye contact?
What does the outdoor area look like? Everyone wants to be able to enjoy a nice sunny day outdoors. Does this area feel safe and secure?
Eat a meal while there. As with most of us, the dining room experience is very important to seniors. Ask about dining hours, options and procedures. Not only is it a great way to sample the entrees, but it also opens up a great opportunity to meet some of the residents.
Ask all your questions. From personal care to security, no question should go unanswered. Ask about anything from bathing and grooming options, to security and safety features. No question is ever a dumb question, and staff members should be more than willing to answer any and all of your questions.
Trust your gut. As you are touring, imagine yourself or your loved one actually living at the community. Do you feel at ease? Are the staff and residents open, inviting and friendly? Follow your instincts and your heart!
Eskaton is a Northern California-based nonprofit with more than 45 years of experience offering services and support for nearly 12,000 older adults each year. Our communities feature everything from independent living to assisted living to skilled nursing and rehabilitation. For more information about Eskaton, contact us at 888-684-6554.
For more information on the topic of assisted living click here: