As you are planning your retirement, keep in mind downsizing can have a huge upside. There are many financial strategies to keep in mind, but the best way to be prepared is to know your options. The most common ways people afford senior living is by sellilng a home they have equity in and using their retirement savings or a pension. Social Security benefits were designed to be a supplement, and help many people afford living expensives long after retirement.
Once you are set financially, the stress of cooking, cleaning and keeping up the yard will melt away as you enjoy the best years of your life.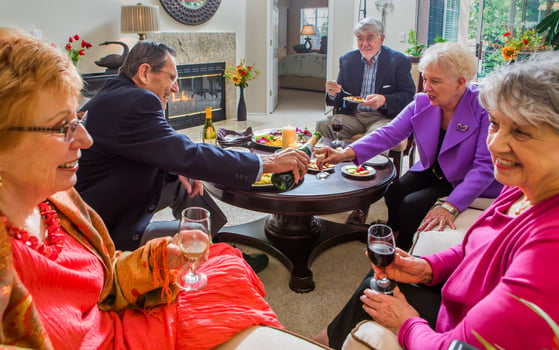 Keep these seven options in mind:
1. Sellling your home: Do you know how much equity you have in your home?
2. Downsizing your belongings: What is the value of furniture, vehicles and assets you'll no longer need in your new home?
3. Veterans benefits: If you are a veteran or the surviving spouse of a veteran, you may qualify for Veterans Aid and Attendance Pension. Find out more here.
4. Long-term care insurance: Make sure you understand what your policy covers. Premiums, daily benefits, elimination periods, what is covered, and method of reimbursement vary dramatically per policy.
5. An annuity: Annuities provide a way to take a pension or other "nest egg" of money intended for retirement and use it to obtain a guaranteed income that pays out until your death.
6. Retirement savings: Individual Retirement Accounts (IRAs), 401(K)s, pension, personal savings accounts, and any other investments you may have.
7. Social Security income.
As you research your financial options, make sure you talk with a trusted accountant or advisor. Make sure to ask financial questions as you tour senior living communities, such as: What costs are included? What costs extra? Are fees refundable?
Lastly, don't forget to conduct a cost comparison of senior living communities to your current living expenses. It will help ensure you include all expenses, make a fair comparison from community to community and allow you to easily lay out and compare costs.