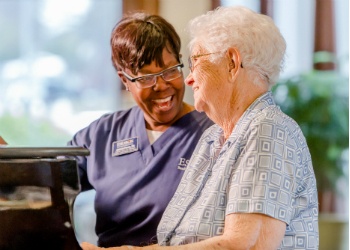 There are many options in independent living communities, from the choice in accommodations to the price ranges to the various amenities.
A key to finding the right community for you is knowing what to look for and what to ask.
In recent years, there has been a growing interest in Continuing Care Retirement Communities (CCRCs), also known as Life Plan Communities.
What Is A CCRC Or Life Plan Community?
A CCRC, or Life Plan Community, offers several levels of housing and care assistance on one campus, with residents becoming members.
You typically enter into a membership contract or written agreement that would offer you a continuum of care—meaning you are guaranteed an independent home or apartment, all the services and amenities available to the active community, and assisted living care, memory care, rehabilitation, and/or additional care, should you ever need it.
Many people choose a CCRC to enjoy the active, enriching, and independent lifestyle they are seeking now, while also gaining great comfort in knowing their future care is already secured.
Due to future care being wrapped into the initial contract, it is essential to ask the right questions when touring a CCRC.
9 Must-Ask Questions Of A CCRC
Is the CCRC financially sound? Is financial information transparent and easily provided to you?

What are the fees, and how do they increase as my health care needs increase?

Do the entrance and/or monthly fees cover any medical or health coverage? If so, what?

Who manages the CCRC, and how accessible is the management?

What are the tax advantages for entering a CCRC?

What are the credentials of the health care facilities?

Who makes the decision to move a resident into the next level of care? The resident? The resident's family? Doctors?

What happens if I need assisted living or nursing care, but there are no rooms available within the community?

What happens if my spouse needs the next level of care, but I do not?
While you are touring retirement communities, keep in mind that with the growing population of seniors, many senior housing options are filling up or already have waiting lists.
So even if you're not sure that now is the right time for a move, it's never too early to get a plan in place. Don't wait until your options are narrowed down for you.