by Victoria Buszinski, Victory High School Advanced Placement English Student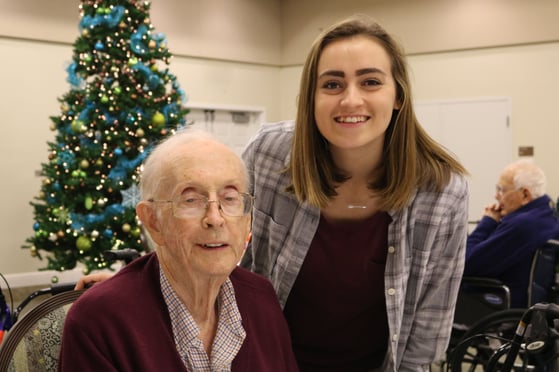 "Well, I wasn't good enough to be an athlete, but I knew I was good enough to write about it." Peter, a 90 year old man living at Eskaton has been in journalism since his days at Roosevelt High School in Seattle, where he decided that he could get almost as much glory by being a sports writer than a sports player. Pushed by his love of journalism, he attended University of Washington and when he graduated, got a call from United Press for his first job as a reporter. In 1950, he was given the opportunity to work in Anchorage, Alaska, where he met a wonderful lady in May, and married her in June.
In 1966, Peter came to California and worked at Sacramento Union as an Executive News Editor, Editor in Chief (his favorite position), and Editor of the Editorial Page. Once, Peter was given the opportunity to interview a man on death row, Caryl Chessman or "The Red Light Bandit", a convicted robber, rapist, and kidnapper. Peter told me he was "a very cool type of guy with no understanding of what he had done, he had to have been crazy."
In 1990, Peter retired. He has 3 daughters with his wife, 8 grandchildren, and 6 great grandchildren. His wife passed away in May of 1998 after 47 years of marriage. "Sometimes people ask me why I never got married again after she died but I say when you've had the best, you don't need the rest." Since retiring, Peter has gotten involved in the American River National Association, he loves to write about nature and he loves to birdwatch. He continues to write about nature and to write biographies of people at his church, Grace Presbyterian. He told me that he enjoys laughing to himself and reminding himself, "Those who can, do, and those who can't, write about it."
Learn more about living in Eskaton Village Carmichael.