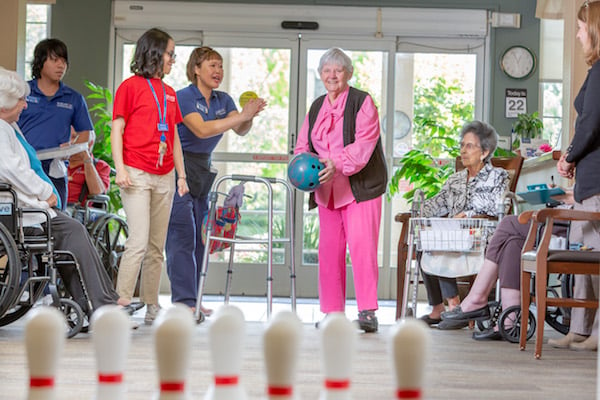 Miriam-Webster dictionary defines an amenity as something that helps to provide comfort, convenience, or enjoyment. Modern senior living communities offer residents a wide range of amenities that fit within this definition. This is great news if you are thinking about moving into senior living because it means you can have high expectations for any community you consider. You should expect amenities related to health care, lifestyle, and social interactions at the community you choose.
Health related amenities
The availability of healthcare is a basic element of any assisted living community. But, the level of care offered can vary from place to place. A top-notch, modern community will offer much more than a basic level of care. You should expect to have around-the-clock caregivers and nurses on-site to address any needs that arise. In addition, a modern senior living community will offer personalized care that includes elements like diabetic management, arrangement of medical appointments, and the development of a customized plan of care.
Every assisted living community in the state of California is required to provide residents with basic emergency response pull cords but the best assisted living communities take safety to the next level. One safety related amenity you should look for is smart sensor technology. This technology can lead to improved quality of life, safety, and health for residents. These health-related amenities can go a long way toward increasing your comfort and overall wellbeing during your time in assisted living.
Lifestyle amenities
Modern senior living communities provide residents with a number of lifestyle related amenities that significantly impact their comfort, convenience, and enjoyment during their stay. These include meal services, housekeeping services, home maintenance, as well as nearby shopping, banking, and consumer services. These are amenities you should expect to see at any senior living community you consider.
Social amenities
Staying connected with others is an important element for longevity and quality of life. You should expect social amenities at a modern senior living community. These include a calendar of social activities for residents both inside and outside of the community. Examples of social activities include bingo, trivia night, exercise groups, and religious meetings. Another amenity that many older adults search for is a pet-friendly environment. There are a number of modern communities that allow residents to bring their pets along. One way to get an idea of the social amenities at any community is to take a look at the activities calendar.
Modern senior living communities are often described as being a 'cruise ship on land.' This is because you can find communities with a long list of amenities-even more than mentioned here. You can live a comfortable and full life in a modern senior living community.