by Victoria Neptune, Victory High School Advanced Placement English Student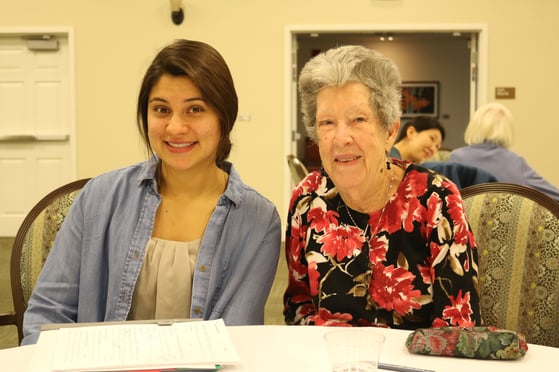 Anna Beth Patton, who is 89 years of age, has been with Eskaton for over 20 years. She grew up in the small town of Hollis, Oklahoma. It is a true miracle that Anna Beth is alive today. Born at a mere 2 lbs. ¾ oz. Anna Beth was born to two loving parents, Faye Lou and Robert Croft Allen.
Anna Beth and her two sisters, Dorothy June, and Wanda loved spending time with each other as they grew up. They loved to jump rope, roller skate, and most of all attend their high school football games. This was where Anna Beth met her beloved "Jimmy".
Jimmy and Anna Beth met at a high school football game and immediately hit it off. They were married soon after she graduated high school and immediately moved to Hawaii where Jimmy maintained airplanes in the Air Force during WWII. Anna Beth and Jimmy gave birth to two beautiful daughters, Deborah and Karen. As the girls grew up they lived in Oklahoma, Hawaii, Florida, and California. Some of Anna Beth's most favorite things to do were to watch Shirley Temple movies, and dance with Jimmy.
Anna Beth is involved in many of the programs at Eskaton. She attends "Sing Fit" every Tuesday, and is an active competitor in bridge and bingo. For many years she sang in the choir at St. Mark's Methodist Church in Carmichael, California. Her love for music prompted her to attend the "Sing Fit" classes at Eskaton. "I've had a wonderful life, and I wouldn't change it for the world. I have no regrets" says Anna Beth. Her daughters live right around the corner from her apartment and visit her often.
Learn more about Eskaton Village Carmichael.