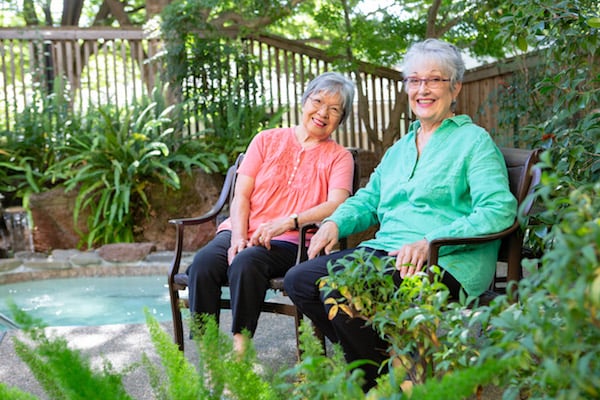 There are a number of options for senior living in Northern California. In fact, the sheer amount of options can make the prospect of making a choice feel overwhelming. The good news is that it is relatively easy to narrow down your choices based on your particular needs and wants. Senior living communities are separated into categories based on the type of care offered. Four of the main options are independent living, assisted living, skilled nursing, and continuing care retirement community (CRCC). Once you know the details of what each type of community offers you can use that knowledge to help you make a decision.
Independent Living
Independent living is an option for seniors who are in relatively good health and can live with minimal assistance. There are a number of conveniences available for seniors who reside in an independent living community including hospitality-style amenities, housekeeping, and transportation services. Residents in independent living communities can enjoy the freedom of being on their own with the peace of mind that comes with having help available nearby.
Assisted Living
Assisted living communities offer a higher level of care than independent living. Residents can get a wide range of care in assisted living from occasional to around-the-clock. Examples of services available to residents in assisted living include medication management, bathing help, laundry, housekeeping, and bowel/bladder management. You can find more details about the level of care available in assisted living here.
Skilled Nursing
Skilled nursing communities are a senior living option for those who need services such as around-the-clock nursing for medically-complex needs, restorative therapy, and personal care. Skilled nursing can be long-term or a transitional stop between hospitalization and another type of senior living community. Many older adults require physical rehabilitation after a hospital stay whether it was due to illness or injury. Spending some time in a skilled nursing community and focusing on rehabilitation can help older adults in this situation regain some of their mobility and independence.
Continuing Care Retirement Community (CRCC)
A CRCC is a senior living option that can work for older adults with various care needs. The levels of care available at a CRCC range from independent living to fulltime nursing for medically-complex needs. Continuing care retirement communities are designed to meet your changing needs. You may be fairly independent now but your needs can change if you experience any type of injury or illness. The major benefit of living at a CRCC is that the disruption to your life will be minimal as your needs change because you do not have to move to an entirely different community.
Once you narrow down the type of senior living option you are most interested in you can start looking at specific communities. Each type mentioned here is available in Northern California through Eskaton. Eskaton is a community-based nonprofit that exists to fulfill its mission of enhancing the quality of life for older adults by providing senior living options in Northern California. You can find more information about specific communities here.