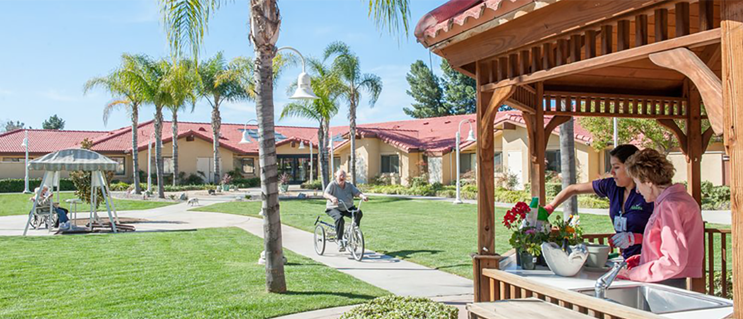 A basic online search will reveal that the options for senior living communities in Northern California are numerous. There are independent living communities, assisted living communities, memory care, and continuing care retirement communities (and a few others not mentioned here). The number of options may have you wondering if there any real differences between these various types of communities. Or, are they simply different names to describe the same thing? There are, in fact, some major differences between the various senior living community options. Understanding these differences can help you know where to start looking for a community that works for you.
Independent living communities
The name of this type of community is relatively self-explanatory. Independent living communities are designed for seniors who can still take care of most or all of their needs. These communities are there to provide social interaction as well as the peace of mind that comes from knowing that others are nearby should help be required. Many independent living communities have private apartments where residents can go about their lives the same way they would in a house but without all of the maintenance concerns that come with being a homeowner.
Assisted living communities
Assisted living communities are for seniors who need some assistance with activities of daily living. The atmosphere of assisted living will allow you to be as independent as possible while providing you will the level of care you need. You can have a semi-private or private living area in assisted living and join other residents for meal times and activities.
Memory care communities
Memory care communities are designed for people who are suffering from dementia or Alzheimer's. These communities are set up to meet the unique needs of residents with these conditions. The living quarters and group areas are designed specifically for memory care patients. In addition, the staff members in these types of communities have the training and experience necessary to help residents who suffer with dementia or Alzheimer's.
Continuing Care Retirement Communities (CCRC)
CCRCs offer any and all of the elements provided by the communities mentioned above. This type of community has areas for residents who can live independently, areas for those who need around-the-clock monitoring and areas for just about everything in between. This design allows residents to avoid a major disruption in their lives when their needs change. Instead of moving across town to a different community, they can simply move across campus when their needs change.
As you can see, there are some real differences between the various senior living community options. The type of community that is best for you depends on your current needs and your plans for the future. You can continue exploring the senior living options available in Northern California at Eskaton.org.