by Michaela Biggs, Victory High School Advanced Placement English Student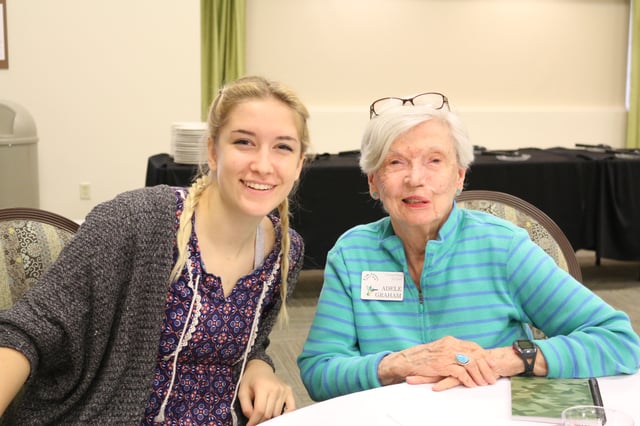 "Dream and follow that dream. Finish what you start," said Adele Graham, resident artist at Eskaton Village Carmichael. Adele believes in doing what she loves, and overcoming obstacles along the way. In her 88 years, she has walked through many trials, including her father dying, contracting skin cancer, and suffering six back fractures. She says these things "really changed her life," but she was determined to make her way, in spite of these obstacles. A few of the many things she has accomplished include: running a women's theatre company in Sacramento, writing vignette plays to be performed, and teaching art at Eskaton. She is a very active and outgoing woman, and likes to motivate people.
Born in Buffalo, New York, Adele was an only child. Her father was involved in the army during World War I, and their family moved when he was stationed in different places. When Adele was only seven years old, her father was exposed to mustard gas, causing him to contract pneumonia, and he was dead within a week. After her father died, Adele and her mother moved back to Buffalo, New York during the Great Depression. Though the Depression was a very hard time to live through, Adele was able to go to college in Buffalo and receive a degree in education, so she could be a teacher. After she worked as a teacher for one year, she worked at American Airlines, where she met her husband. Together, they moved to Phoenix, Arizona, where they had two children. After fourteen years of marriage, Adele and her husband were divorced, and she pursued her dream: visual and performing arts.
In her community theatre company in Sacramento, Adele was given the opportunity to write plays to be produced, and perform in Old Sacramento and on the Delta King. She is also experienced in adapting plays to be performed on the radio, and in directing and producing. At Eskaton Village Carmichael, she is involved in the play-readers, and teaches art to her fellow residents. She also loves art, and thinks that it is very important for people to be exposed to art and culture. Throughout her life, Adele has followed her own advice; she has dreamt, followed those dreams, and, at 88 years old, she is still finishing what she has started.
Learn more about living in Eskaton Village Carmichael.