by Evelina Cojan, Victory High School Advanced Placement English Student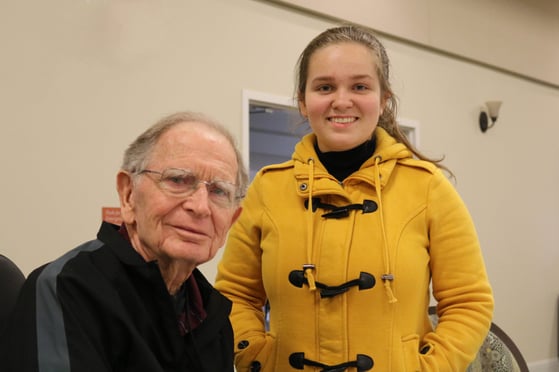 California native Ben Jones has lived an interesting life. He earned a master's and a bachelor's degree at the University of Southern California. During his career as an engineer and geologist, he worked for Southern California Gas Company helping to store natural gas underground. He traveled a lot for work. He fixed oil wells and explored Alaska for oil and gas. Whenever he had an afternoon off, he fished with his friends.
Ben traveled all over the world. He has seen Europe, Mexico, Canada and multiple U.S. states. "Rome is most intriguing," Ben says. It was his favorite place to visit, with its historical landmarks and all the Roman architecture. He also enjoyed visiting Spain.
Ben absolutely loves geology and wished he could have spent more time studying rocks. His favorite thing to do in his free time is to use the Internet. He also enjoys watching professional sports, like basketball and football. His mother was an artist and he learned to appreciate art from her.
Ben and his wife moved to Eskaton Village Carmichael in 2015. They chose Eskaton because it has the continuum of care including assisted living. The couple has two children and four grandchildren.
Thank you Ben for all you have done during your lifetime.