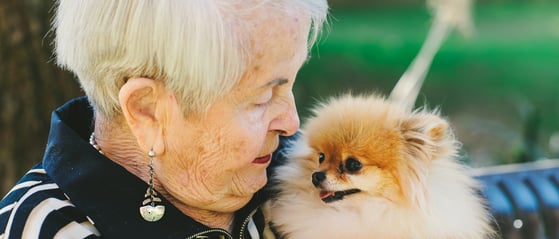 Dogs can be the perfect addition to your new home at a pet-friendly senior living community. But before you pick the cutest pooch you see, take into consideration which characteristics suit you best to find the best breed for your senior lifestyle.
Dogs with Minimal Grooming
Do you want a dog that requires little grooming? Choose a short-haired breed such as:
Pug
Boston terrier
Chihuahua
Beagle
Dachshund
Dogs with Low Energy
Do you want a laid-back dog that doesn't require a daily walk? Consider a:
Pekingese
Cavalier King Charles Spaniel
Japanese Chin
Shih Tzu
Pug
Bolognese
Dogs that are Quiet
Would a small, quiet dog be the perfect fit for your home? Consider a:
Bolognese
Shih Tzu
Japanese Chin
Cavalier King Charles Spaniel
Dogs that are Allergy Friendly
Are you a senior with allergies? Then consider a hypoallergenic breed, such as a:
Poodle
Mini Schnauzer
Shih Tzu
Yorkshire terrier
Maltese
Bolognese
Dogs that are Lap Size
Is your heart set on a small dog perfect for your lap? Then one of these may be the breed for you:
Shih Tzu
Maltese
Yorkshire terrier
Chihuahua
Lastly, also consider these two recommendations made specifically for seniors looking for that perfect pet companion.
Get an adult dog. With an adult dog, you are more likely to have a good idea of health history and temperament, and you're past the time and money involved in raising a puppy.
Check out shelters and rescue groups. Breed mixes often have fewer health problems than their purebred counterparts. If you want a purebred, be sure to find a reputable breeder.
See more breed recommendations at smalldogplace.com.
Eskaton welcomes companion animals in all of its senior living communities, knowing that the bond between pets and people is one of life's great joys. For more information on Eskaton, contact us at 888-684-6554.