I've met many caregivers over the years, and they have one obvious trait in common: Tireless dedication. The first caregiver I ever met was my mom, but she would not have called herself a caregiver. She's a committed and loving daughter. Like most families, Mom brought us kids to Grandma's every Saturday to play cards and enjoy a yummy pot roast. I can still smell the carrots and potatoes roasting. Nothing will ever compare to Nana's tender, juicy roast beef.
As Grandma aged, Mom's responsibilities grew. Mom started by taking her to the hairdresser and shopping. Nana moved to independent living and eventually needed more care. Mom was right there with her through the entire journey from assisted living to skilled nursing.
Caring for a loved one is something many of us have in common. When adult children live nearby, it might make the most sense for a parent to move in if senior housing is not an option. If the family lives far away, they might move the parent closer to keep a better eye on him or her. A couple in their 90s, who live at Eskaton Village Grass Valley, spent their lives in Southern California living independently on acreage next to a beautiful river. As their health changed, their sons began to worry. The sons, living in Nevada County, were able to convince their mom and dad to move to the Gold Country. The move brought the family closer together – both geographically and emotionally. They are tight knit again after many years apart and now the entire family gets to participate in the caregiving journey.
Most recently I had the honor and pleasure of spending the day with a man who is the primary caregiver of his wife. Ken and Marjorie celebrated their 45th wedding anniversary this past year. Marjorie requires supervision for cognitive issues and Ken doesn't leave her side. Ken says caregiving means: "My wife can be with me. She feels safe and comfortable."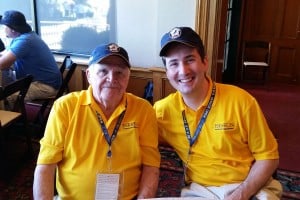 We wanted to provide Ken with a respite -- a break from caregiving. Thanks to Eskaton Foundation, Ken and I attended the Del Paso Country Club for the 2015 U.S. Senior Open. We enjoyed the day on the course watching the golfers practice. Ken is a retired golf pro. He worked for 20 years at MacGregor Golf Company. "I've played some of the best courses in California," boasted Ken with a big smile. Unfortunately, he doesn't get out much anymore so it was important to me to give him a special experience that I knew he would enjoy.
The best advice I can give someone who is responsible for a loved one's care: Take time for yourself. Caregiver burnout is tough. Your health is just as important as your loved one's.