by Katie Liggera, Victory High School Advanced Placement Student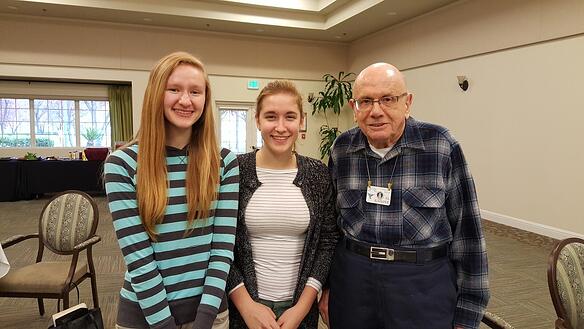 Dr. Al Kahane, an 87-year-old retired physician, enjoys the simplicity of not having to cook while living at Eskaton Village Carmichael with his wife Millie, a retired professional nurse. Before coming to California, Dr. Kahane grew up in New York and received his education at New York University, originally majoring in English. He attended medical school in downstate New York before becoming an intern in San Francisco where he met Millie. Dr. Kahane and his wife married in 1960 and raised a daughter and son.
Dr. Kahane's life advice to "work hard" was implemented in his life being a combat medic during the Korean War before serving in the Air Force in Alaska. His ten years in the service came to an end, but his work did not. He joined Kaiser as one of the original physicians on Morse Avenue. Their group was affectionately known as "John and the Twelve Disciples," named after Dr. John Mott, the original Physician in Chief. After spending time as a chief executive in Oakland, California, he retired in 1993.
Dr. Kahane attends the Medical Society meetings and formed the Veteran's Group at Eskaton. His four years in Alaska serving in the Air Force was far from the extent of his travels. He and his wife have been to every continent, "We would come back from one vacation and book the next one," said Dr. Kahane. His favorite trip was when they traveled to Africa. He would like to live in New Zealand because of the nice weather, nice people, and variety of activities to participate there. Working hard and accomplishing much is a summary of Dr. Kahane's life thus far.