by Emily Darke, Victory High School Advanced Placement Student
Emily participated in Eskaton's Life Biography project as part of her high school English class.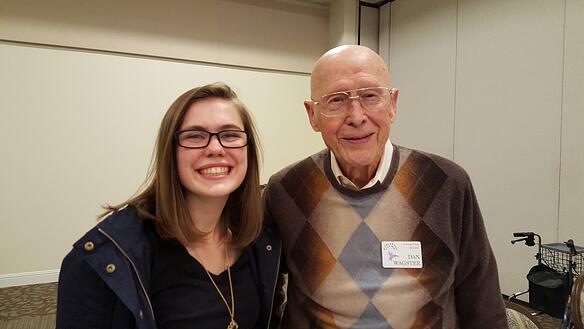 Dan Wagster, 88, is an independent living resident at Eskaton Village Carmichael. He is a lively, interesting man with an exciting and accomplished life. Dan was born in Port Angeles, Washington, but calls Kelso, Washington, his home town. He frequently moved houses as a child, but continued to stay in the same community where he attended nine different schools from first to eighth grade. After his parents divorced, he lived with his dad until his sophomore year when he moved in with the Mohr family -- who he calls his adopted parents. "My life really benefited from the Mohr's," explained Dan.
While in high school, Dan met an alumnus from Yale University. Because of the encouragement from the Mohr's, and his accomplishments in high school (such as student government, theater programs, and sports), Dan was offered a four-year scholarship. While working to achieve a degree in Sociology, he enjoyed playing on the university's football team and appreciated the post WWII competitive atmosphere of his classmates. Dan graduated in 1949 in a class that included former President, George W. Bush, Sr.
After returning from service in the Korean War, Dan married and had two children, Wendy and Dan. He began work for Kaiser Aluminum in industrial relations as a trainee. Later, he transferred to Kaiser Permanente for 30 years, eventually working his way up to the Board of Directors. After retiring in 1994, he thoroughly enjoyed traveling the globe with his second wife, Sarah, and adventured to places such as Europe, Asia and Africa.
After Sarah was diagnosed with Parkinson's disease, they moved from Bend, Oregon, to Sacramento to be closer to her brother. The couple has been living at Eskaton since October 2012. Dan is the Master of Ceremonies at Eskaton's annual variety show. He is a comical man who loves developing friendships with others. "The people here are fun, accomplished, and have great stories," Dan explained. During his free time, he enjoys watching sports and making people laugh. "Always do one thing every day to make someone laugh. You want them to feel better than they did when they first saw you," he said.
Looking back on his life, Dan is thankful for an enjoyable life, a fulfilling career and his two marriages to lovely ladies. Relationships are very important to Dan and he advises to "believe love is limitless and be willing to expand your love for new people."