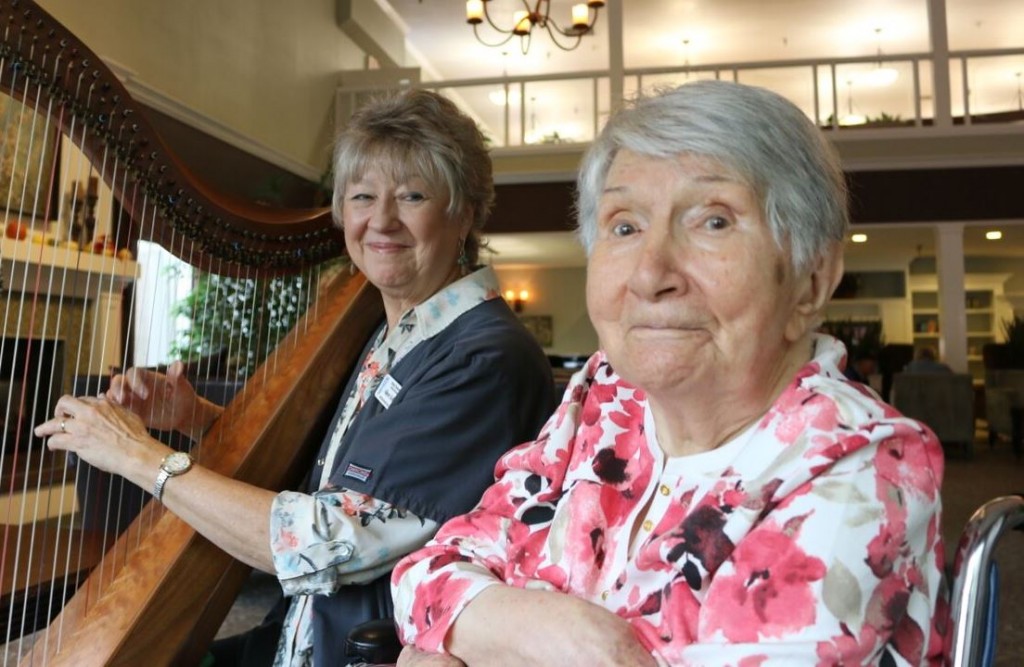 Robadeh will celebrate her 101st birthday in January. Just two years ago, it looked like she wouldn't make it. She wasn't eating. She was hospitalized twice with pneumonia. Alzheimer's disease made Robadeh at times profoundly sad, anxious or fearful. That's when Aileen, a therapeutic musician, began visiting her at Eskaton Care Center Fair Oaks. One day, Aileen improvised some music on a Middle Eastern scale on her harp, hoping that the power of familiar music would ease her suffering. It was a breakthrough. An educator and lawyer once fluent in English and other languages, Robadeh could now remember only the Persian of her youth. But the familiar music touched her.
For people living with advanced Alzheimer's, music from their youth can ease anxiety and enable them to communicate again. Robadeh's son, Ali, was visiting when Aileen came to play a Persian song on the harp that he had sent her. When Aileen began playing the song, Robadeh visibly brightened. She talked quietly with her son. Ali sang a song to his mother as Aileen continued playing. Then he began reciting some poetry. His mother joined him, reciting the poem along with him. Because of the continued therapeutic music visits, Robadeh has become comfortable and even happy. In turn, this has positively affected her well-being and health.
During a recent visit, Robadeh closed her eyes in pleasure as Aileen played the harp. Robadeh and her family are touched by the thoughtfulness expressed by the entire staff. Her son and his wife spend several hours with her every day and have noticed the calming effect the music has had on her. "It's a wonderful program especially for people with dementia. They can't engage in bingo and sing alongs.
This is calming music. Music from when they were younger that they enjoy," commented Ali's wife. The Therapeutic Music Program is made possible entirely by donors like you. With your support, Eskaton Foundation is offering the Therapeutic Music Program at four Eskaton skilled nursing and rehabilitation centers where the large majority of long-term care patients are low-income. Aileen, who comes to Fair Oaks from Music Partners in Healthcare, reflected on her work with the Moezzi family. "It was a special connection we were able to make. Really sweet."
Read the Impact of Your Philanthropy newsletter. You can make an impact by donating to Eskaton Foundation for the Therapeutic Music Program. Click here to donate now.