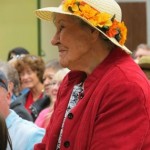 The green lawns of Eskaton Lassen Manor are calm and inviting. The Manor is an affordable 39-unit apartment community in Susanville, California. It makes the perfect place for older adults to go about their daily lives with ease and comfort. Faye Dunham, 92, has lived there for nearly 30 years. She moved in when Eskaton Lassen Manor first opened in 1986.
Faye's career mostly included manual labor. She worked in potato sheds and frozen food plants. She packed grapes and harvested fields. Currently, she enjoys playing games such as Bingo, cards and Bunco, a dice game where the player rolls three dice. She is known for her amazing baking skills and delicious cakes.
A lover of country music, Faye dreamt of going to the Grand Ole Opry in Nashville, Tennessee. Unfortunately, due to her health condition she is not able to travel. Instead, the Lassen County community pulled together to give Faye a Thrill of a Lifetime. With the help of Eskaton Lassen Manor Social Services Coordinator Charlotte Roberts and Executive Director Peggy Wood, Faye's dream came true.
Faye received her thrill at McKinley Elementary School, just a couple blocks away from the Manor. Nine local talented singers were selected to perform tribute songs by old country classics such as "Stand by your Man," by Tammy Wynette, "Old Man River," by Paul Robeson, and "He stopped loving Her Today," by George Jones. Wearing her Minnie Pearl hat made by her niece, Faye danced with family and friends, enjoying a special Grand Ole Opry tribute performance just for her.
Read more from the Lassen County Time
Learn about Eskaton's affordable housing