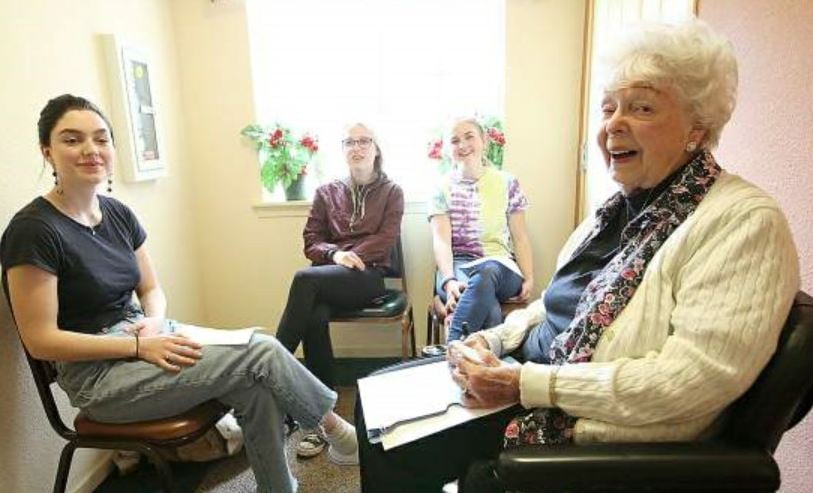 Eskaton Village Grass Valley partnered with Sierra Academy of Expeditionary Learning (SAEL) in Nevada City, CA to create an intergenerational project, called Building Bridges. During a semester long project, high school senior student groups partnered with elders living at the community to document their lives using writing and film.
SAEL Academy believes in project based learning and proposed a project idea to Eskaton Village Grass Valley that would leverage the wisdom and knowledge the elders could share with their high school students. The purpose of the project was for the students to learn through storytelling. To accomplish their goal, the students met with seventeen elders over the course of two months to ask questions about their life and try to ultimately answer the question, "what makes a meaningful life?"

The project aligned with Eskaton's Well-Being Philosophy to challenge ageism and provided elders with the opportunity to breakdown preconceived notions the students might have about aging. Michele Ozanich, Director of Resident Services, shared "Eskaton Village Grass Valley is working on breaking down stereotypes and stigma younger people may have towards older people". The community believes in seeing each person's strengths and challenges that all persons' regardless of age or ability can live well.

Teachers, parents and team members saw a change in mindset and perspective over the semester long project. Marika Beck, a SAEL English teacher, recalls seeing a shift, "it's been beautiful to listen to the stories shared and to really be able to watch both hearts and minds expand with new perspectives and new understandings about aging".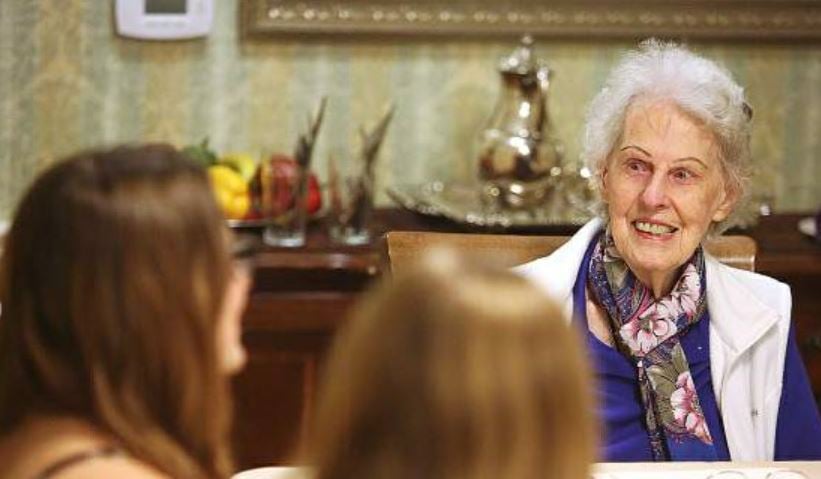 The Building Bridges Intergenerational Project made a tremendous impact on the students, teachers, elders and team members at Eskaton Village Grass Valley. This project brought us back together as a community. It truly bridged the generation gap and created a space for building community and getting to know people as people. Jen Scott, a parent facilitator, said that through the project all persons involved were taught and reminded of the importance of supporting one another as humans.
All students took something away from the project. Many learned a new respect and understanding for aging and a curiosity to learn and get to know other elders in the community. Students learned firsthand that a person's age does not dictate how a person feels. Students had the opportunity to meet a 100-year-old who still wants to learn and grow just like the students.

The project also had a profound impact on the elders at Eskaton Village Grass Valley. Dorothy Kain, known as Dot, by her friends and students shared, "I just fell in love with my two young women". Dot was partnered with students Robyn and Catherine and changed her own beliefs about the younger generation. Dot shared, "these women are grounded and I see a lot more commonalities than differences between us". The feelings were mutual for her student partner Robyn, "the experience has been amazing and I now have a new respect for my own grandparents and the elders in our community".

The Building Bridges Project is just one example of how Eskaton strives to debunk myths and rewrite the narrative of aging. Eskaton is part of a larger societal movement to educate the community about ageism and help dismantle it. Eskaton believes intergenerational projects like Building Bridges and the Kids Connection challenge preconceptions of aging and provide an alternative narrative that believes in the beauty of what time can teach us. Wisdom, respect, growth and resiliency. These growth narratives are expressed through the life stories captured by these talented students. Join us for this summer's series as we share the elder's stories and films captured by the senior students. This showcase of Age is Beautiful would not be possible without the contributions of the elders, students, team members, teachers and parents.


---