Hosted annually since 1985 by The COMISS Network: The Network on Ministry in Specialized Settings, National Spiritual (or Pastoral) Care Week offers communities an opportunity to celebrate the chaplains, spiritual counselors, educators and providers that give so much to those they minister to. It's also a chance for community members to meet their spiritual leaders and to learn more about the services and value they bring.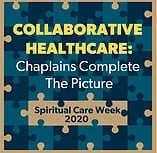 Celebrated in 2020 October 25 – 31, this year's theme, "Collaborative Health Care: Chaplains Complete the Picture," perfectly describes the integral role our spiritual leaders play in the lives of our residents and their families. As an organization and provider of senior living and services, Eskaton values and affirms spirituality and faith as part of well-being, and developed the Spiritual Care Program as an essential component of our continuum of care. This unique program aims to respect, support and enhance the spiritual and emotional life of Eskaton residents, their families and staff. We believe in respecting diversity, listening in confidence, and providing companionship and comfort through multi-faith and nonreligious support, compassionate presence and prayer.
Through the Spiritual Care Program, residents and their families can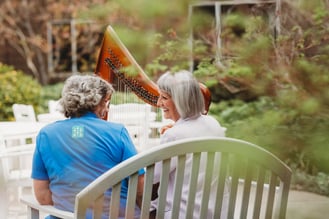 benefit from group services and individual visitations, therapeutic music performed by trained musicians, and grief support for families, friends and staff. The Spiritual Care team also offers assistance in planning special services of thanksgiving or remembrance, and provides community resources, weekly devotionals and a guidebook for Comfort Care. The program is designed to offer our residents and their families compassion and the assurance of human connection as they navigate the challenges of life.
Eskaton's Chaplaincy Program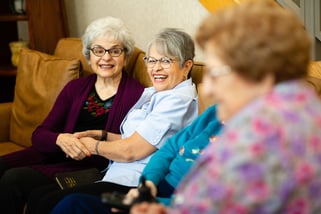 Eskaton chaplains establish meaningful connections with residents and provide a listening ear. During chaplain visits, residents are offered a safe space where they are encouraged to ask questions and express their feelings openly. Through this building of trust, residents often experience comfort, peace of mind, and acceptance. The positive influence of the chaplaincy team is felt throughout Eskaton.
Over the coming week, Eskaton will be delighted to introduce you to a few of the outstanding chaplains who serve our residents with love, compassion and dedication every day. Keep an eye on Eskaton's Facebook page to learn more about them and Eskaton's Spiritual Care Program!