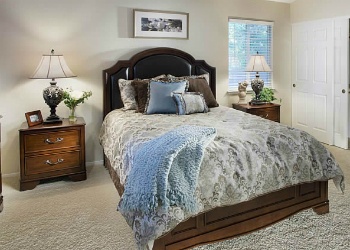 One of the big things that people wonder when considering senior community living is whether or not it will feel like home when they move in. It's certainly a valid concern to have.
The truth is that it may not feel like home from day one. Any new home takes a little time to adjust to. But there are things you can do to make your home within an independent living community feel more like home.
How to Make Your Independent Living Home Feel Like…Home
Bring a Little Home With You
When you're sorting through a lifetime of possessions to make the move into your new living quarters, make sure to bring the most important items along with you. Maybe it's the first wedding gift. Or, a silly little cookie jar that has moved with you several times over the years. It could even be the first gift your spouse gave you. Whatever it is that makes your home feel most like home, bring that with you.
Use Technology to Add a Little More Home
Perhaps you don't have the wall space now for all the framed photos in your former home. Don't give them all up. Go digital instead. Switching to a digital photo frame allows you to display a steady rotation of photographs through the ages. These photos, provided they are digitally backed up and secured, won't yellow with age, take up little space on walls or tables, and keep all your favorite photographs within easy reach.
Choose Your Own Colors
One of the great things about independent community living is that many communities want their residents to feel at home and allow them to choose their own colors for décor. It's a small thing really, but one that can make you feel far more welcomed and at home.
Try to Arrange Cabinets and Furniture Close to Home
Many older adults will bring favorite dishes, furniture, and other items to their new homes. Try to arrange things in the new home as similarly as possible to their existing home so they aren't working hard to find things every day or tripping over unfamiliar furniture arrangements. This small step can be incredibly useful for helping you feel like little has changed.
Community living can give all the comforts of home along with a more active and convenient social calendar to go along with those comforts. These tips will help it feel more like home while you are too busy making friends. Then one day, you will be surprised to find you are at home.
Eskaton communities offer the Livable Design Seal of Approval, which promotes convenience, function, and flexibility in beautiful living spaces. We invite you to take a tour today - contact the Eskaton community of your choice to schedule a visit.