Volunteering is a marvelous way to give back to society while also helping others at the same time. Many people find volunteer work rewarding not only for the experience, but also for the satisfaction they get from knowing that their support has made a difference in someone else's life. Every gesture no matter how big or small is meaningful.
One volunteer's art project has been a success. Her portraits of seniors in the community have been drawing attention, appreciation and admiration.
Ever since she was a child, Mahitha Gollapudi loved to draw and paint. She would spend hours on her art projects. As an adult, she decided to use her skills to bring joy to the residents of The Parkview. In June 2022, she began her journey as a volunteer in the community. When asked why she enjoys volunteering at The Parkview, Mahitha stated "I enjoy volunteering here because of the wonderful residents and team members, everyone is so welcoming!"
Mahitha meets with the residents every Sunday and takes the time to listen to their life stories. During her sessions, she uses her artistic skills to create stunning portraits of the residents. A family member of a resident, Donna, stated "Mahitha is giving families of the residents such a memorable gift that will be treasured forever. I just think she captured an essence in this point of time of my mother's life."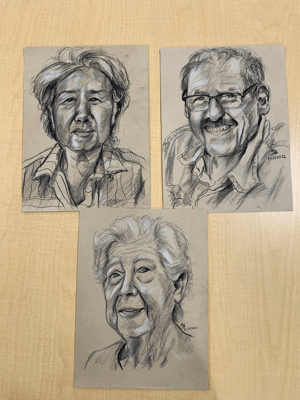 Mahitha was inspired to volunteer with seniors after her grandmother passed away during the pandemic. She felt she couldn't properly grieve for her or find closure. She wanted to express her love for her grandmother through one of the mediums in which she excels: art. She has made life-long connections and created beautiful portraits with residents of The Parkview using her 10+ years of art experience.
For many, there's something comforting about having a lasting legacy of your loved one created with such passion, artistry and love. Whether it's creating a work pf art, fixing a meal, or simply holding someone's hand, volunteering is rewarding, fulfilling and worthwhile.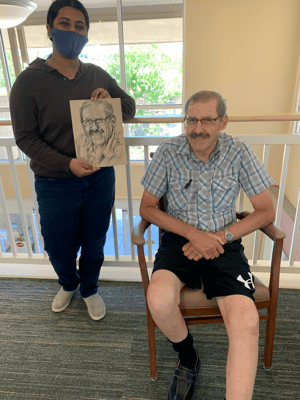 Seniors are often looking for ways to stay engaged and connected with their communities and the world around them. By volunteering with seniors, you'll learn more about your community's history, traditions, culture and future. The opportunities to make a difference are limitless. Volunteering with seniors teaches you how to make others feel welcome and comfortable, especially those who might not normally interact with people outside their own age group. Additionally, volunteering with seniors helps you develop or enhance skills such as patience, empathy, compassion and respect. To learn more about our volunteer opportunities in an Eskaton community near you, click here.