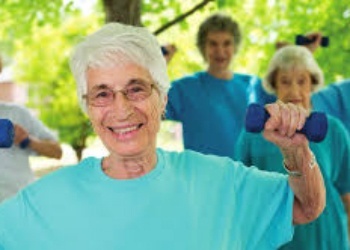 If you are an active senior living independently with diabetes or prediabetes but are not able to perform high intense workouts, there is good news for you. On May 6, 2015, the 'National Get Fit, Don't Sit' day was hosted by the American Diabetes Association to promote healthy living and wellness and to improve organizational well-being. This day encouraged people to get moving every 90 minutes during their day and limit the time they spend sitting.
Light Physical Exercise and its Effects on Diabetes
In the late 1990s, Dr. Marc T. Hamilton researched the physiological effects that intense exercise has on a person. After setting up his experiments, he observed rats as they exercised at different intensities and times and was surprised by what he found. Hamilton found that light physical exercise performed throughout an entire day effectively improved glucose and lipid metabolism more than exercising intensely for a couple hours.
What does this mean for the active senior?
It means certain health benefits are activated at a cellular level with light physical activity that is completely distinct and separate from those that come from intense exercise intervals. It means you can still benefit from exercise with diabetes without overwhelming or stressing your body.
In 2007, the research journal Diabetes published a paper which was authored by Dr. Marc T. Hamilton and his colleagues. This paper began a new set of thinking in regards to recognizing exercise physiology as distinct from inactivity physiology.
What this means is that even though light physical activity doesn't feel like it takes a lot of effort, at a cellular level, it still activates certain health benefits. His study shows how it all works through realizing that certain muscle cells which light activity activates are those cells that are supplied in the important proteins for metabolism of cholesterol, fat and blood sugar. Finding this information out is vital for creating health guidelines, particularly for seniors with diabetes and others who can't endure intense exercise.
Less than five percent of adults engage in at least 30 minutes of physical activity daily, according to the President's Council on Fitness, Sports & Nutrition. Out of the older adults between the ages of 65 through 74 only 34 percent at most are physically active; 44 percent at most for adults aged 75 or older.
With these statistics in mind, there are many factors at play here other than lack of willpower. Many people who have or are at high risk of developing diabetes, including the obese, people with pre-existing conditions, and seniors can't tolerate intense exercises. The "Get Fit, Don't Sit Day' awareness campaign and the study both have excellent potential of improving health and reducing the risk for diabetes.
Searching for an healthy, active lifestyle among your peers? Be sure to look into Eskaton independent living services.