Larry Dawes is an Eskaton guest blogger and the gerontological social services specialist at Eskaton Support Center. As part of the community outreach team, he provides education and training for staff and residents across the region.
Performing activities under conditions of anxiety—whether you are an athlete worried about missing an important shot, or an older adult anxious about falling when walking outside—can influence your behavior and increase your likelihood of not performing the activity properly. Research shows that older adults who are anxious about falling are actually more likely to experience a fall. Let's begin by reviewing the prevalence of older adults experiencing a fear of falling.
36% of all older adults experience either moderate to severe fear of falling.

Older adults are more fearful about falling than robbery, financial distress or health problems.

The prevalence of fear increases among older adults who have already fallen. One study demonstrated that 56% of older adults who had already fallen and were living with severe fear post-fall fell again within 12 months.

Fear is a better predictor of decreased physical activity than age, perceived health, the number of prescription medications taken, gender or history of falls.
Reviewing the Consequences of Fear
Fear of falling is anxiety related to the risk of falling during one or more activities of daily living. Let's review the consequences of this anxiety:
Reduced levels of physical activity - This can lead to reduced capacity to perform activities of daily living such as showering, bathing or shopping.
Changes in physical strength - Less movement results in less strength, flexibility and balance. This often results in reduced gait speed, widened stance, and reductions in strength and flexibility.
Feelings of depression, loneliness and isolation - These feelings can be a direct result from opting out of social engagements and activities due to being fearful.
Decreased social contact - Most social activities involve leaving the home and navigating in less-familiar spaces. Many older adults who are fearful of navigating in unfamiliar spaces may opt out of these social engagements.
Reduced quality of life - Navigating the physical and socio-emotional consequences of being fearful of falling can lead to negative thinking and reduced life satisfaction.
Strategies to Overcome Fear
To reduce your fear of falling and improve your quality of life, here are a few strategies to assist you in overcoming your fear.
Increase your physical activity and daily movement - Aim to incorporate 30 minutes of movement into your routine every day. Start in small increments and work your way up to 30 minutes.
Enroll in gait training to improve posture - Incorporate walking into your day will improve your gait and posture. For an extra challenge, try walking in a straight line or walking heal to toe.
Ask your doctor or pharmacist to review you medication list - This will help ensure your medications do not have any serious side effects or interactions that may increase your risk of falling.
Review Eskaton's home safety check list - Your home should be your sanctuary. There are simple steps and modifications you can make today to reduce the risk of falling within the home.
Schedule a vision check-up - Your vision is critical to reducing fall risk. Making sure you are wearing the right corrective lenses can ensure you are able to scan your environment for potential hazards and negative safely around new areas.
Maintain a healthy diet and hydrate often - Eating the right food can improve how you feel and give you the energy needed to keep moving. Make sure you are incorporating lean proteins, vitamin D, water and calcium in your diet every day.
Practice healthy sleeping habits - Sleeping for 7-9 hours each night can help ensure you feel alert during the day and have the energy you need to stay active.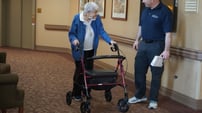 Use assisted devices to increase confidence - If you are just beginning to increase your physical activity and feel unsteady on your feet, try using an assistive device like a cane or walker. These will both increase your confidence and improve your stability while you are rebuilding your strength and balance.
Wear suitable shoes - Your shoes ensure you feel strong and stable. Be sure you are wearing close-toed shoes both inside and outside. Your shoes should provide you with good ankle support and be able to be properly secured.
Improve your confidence and mindset - Once you begin taking steps to reduce your risk of falling, your mindset will begin to shift. Take it one day at a time. Small changes make a big difference and will contribute to you feeling more confident about doing the activities that you love.
These strategies will help you reduce your fear of falling and improve your confidence to keep moving. Remember, sustainable change takes time so be patient with yourself as you incorporate these strategies into your daily routine. For more ideas on how to reduce your risk of falls, download our latest Stand Strong booklet.