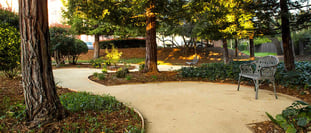 Keeping a home maintained through the years may have given you a lot of pride, however, as you age, it can become a burden. Some challenges you might face as an older adult are a large yard that needs to be mowed and maintained regularly or maybe too many rooms that need to be cleaned that you don't even use anymore. Perhaps your home is on a steep hill and is now difficult to access or you have a few flights of stairs you have to tackle, which makes it hard to leave your home as much as you wish to and leaving you feeling more isolated than ever.
No matter what the challenge is, you have options. You can either hire outside help to come in and take care of the lawn maintenance and remodel parts of your house for you, you can have family members keep the work up for you, or you can decide to move into an independent living community where you have more freedom and less maintenance.
For the active senior who enjoys life enriching activities, being able to just lock your door and keep up your active lifestyle, travel or do whatever you want knowing that most of the home responsibilities are taken care of can be invigorating. This frees up more time for you to just enjoy life.
Benefits of Independent Living
Independent living offers you a maintenance-free lifestyle. This is much more than basic lawn care, leaf removal, and landscape maintenance. This includes the entire exterior of your building including the roof, driveways, sidewalks and streets. Staff will usually:
Get rid of weeds
Fertilize and mow lawn as needed
Spread mulch
Edge lawn along driveways and walkways
Blow chippings off driveways and sidewalks
Change light bulbs that are hard-to-reach
Perform repairs on things like major appliances, downspouts, roofing and more
Not only is the outside tasks of your home taken care of for you, but independent living often provides housekeeping services too. This will free up your time to participate in social activities, go golfing, take a walk, or engage in other resident-driven activities.
As they age, many seniors face the decision of whether they should give up their home and make different living arrangements. If your home is becoming a burden and you feel overwhelmed, can't keep up with the everyday tasks, or feel cut off and isolated, an independent living home could be a good option for you. Your new home could just be what you need to give you that independence and freedom you need to thrive.
Residents of Eskaton communities appreciate independent living services - including housekeeping and transportation services - that enable them to live an active, independent lifestyle without having to spend time or worry about things like mowing their lawns or cleaning their homes. Contact an Eskaton Community today for more information or to arrange a tour.