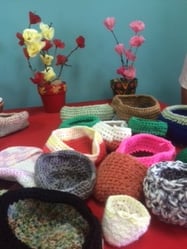 Dear Friends,
Thank you for accepting our support to the Wildlife rescue. These hand-crocheted nests were created by Eskaton ADHC program participants with heartfelt crafting. We will continue to roll the donated yarn we received from other Eskaton communities and work on more projects as needed. Lesa has crocheted beautiful and colorful nests. Ana took the lead to teach other participants the various crochet stitches. We all enjoy looking at the completed nests. The colors and textures are exciting. This project has created sense of pride and acomplishment in our program participants.
Thank you again for allowing Eskaton Adult Day Health Care Center to be part of Wildlife Nest's community project.
We look forward to our continued contributions for a good cause.
Warmly,
Ellen Graap
Activity Coordinatory
For more information about Eskaton Adult Day Health Care Center, click here.