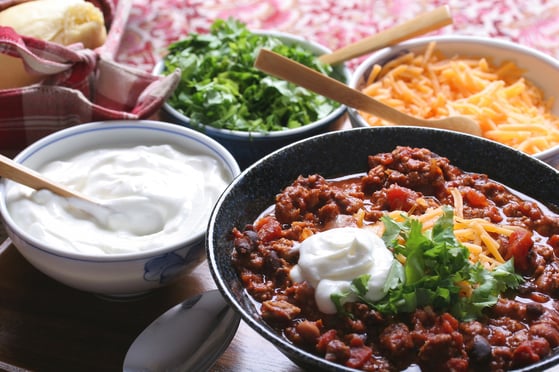 Six Eskaton communities competed against the Sacramento Metro Firefighters of Stations 28 and 106 during the Eskaton Chili Cook Off in Orangevale on May 9, 2017. Can you guess who won?
The recipe by Kenny Davis, food service director at Eskaton FountainWood Lodge, was packed with three types of meat, diced tomatoes, and a combination of spice and tang. It was a perfect blend and only rated a three on the hot meter, making it delicious to all palates.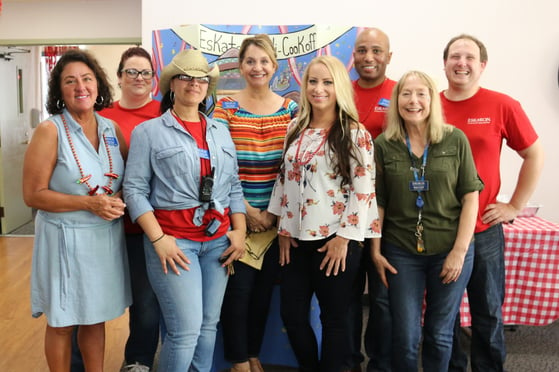 Kenny Davis (far right) and his team at Eskaton FountainWood Lodge
Then there was Russ Mathews' recipe that was as "spicy as his personality," said Executive Chef Kary Saunders. Russ, a resident of Eskaton Village Placerville and a retired firefighter, used to make chili for his crew in Los Angeles and later in Grass Valley. He cooked for thousands of people during his 25 years with the fire department. He even published his chili recipe in a limited edition 217-page cookbook titled "My Favorite Recipes."
Eskaton Lodge Granite Bay brought a homemade chili using a family recipe by Megan and Nathan Hayduk, modifying it just slightly by adding fresh heirloom tomatoes. Eskaton Village Roseville's secret ingredient was smoked brisket. While Eskaton Monroe Lodge served theirs with fresh homemade cornbread that even had whole pieces of corn in it. Eskaton Lodge Cameron Park's recipe was thickest of them all. "Thick and rich! Just the way we like it in El Dorado County," said Jill Baughman, Eskaton sales counselor.
But none of them were good enough to beat the firefighters whose chili pan was empty by the time the voting ended. Before the winner could be announced, the firefighters were out the door racing to an alarm, and unable to accept their award.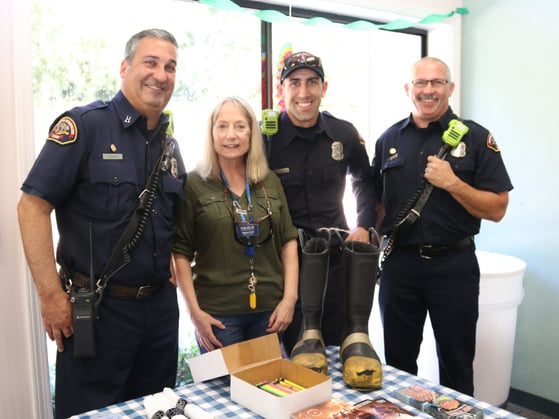 Sharon Wold, Eskaton activity director, and the firefighters from Station 28 and 106
Luckily, the star of the Chili Cook Off kept the crowd entertained. International Chili Champion Margo Knudson is a resident of Eskaton FountainWood Lodge. Margo and her husband, JR Knudson, are the founders of Jimboy's Tacos. Karen Freeman, Margo's daughter and current president of Jimboy's Tacos, introduced her mom to the crowded room.
Margo told the story about how she became world champion in 1987, 19 years before her husband Jimboy did. She even showed the giant $25,000 winning checks to prove it. Folsom TV personality Adam Frick captured a priceless interview with Margo and posted it live on their Facebook page. You can find all the photos and videos at www.facebook.com/eskaton.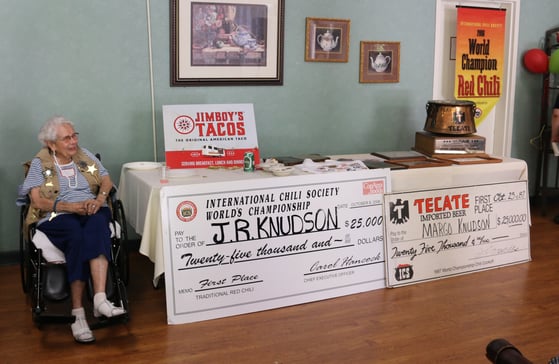 Margo Knudson and her winning checks from the International Chili Society. Click here for her winning recipe.