The nonprofit Eskaton celebrates employees who go above and beyond with a Guardian Angel Program. Employees receiving five Guardian Angel pins in recognition of their hard work were treated to lunch with Eskaton President and CEO, Todd Murch and President of Eskaton Foundation, Kim Rhinehelder. Evelyn McGrath, Executive Director at Eskaton Village Placerville is humbled that in 2015 her staff received 27 Guardian Angel pins and she was excited to attend lunch with Christ Nordell, a five time Guardian Angel recipient.
Grateful residents are thankful for the exceptional care that Eskaton employees provide. They express their appreciation and recognize an employee, by making a donation in their honor to Eskaton Foundation. The gifts are reinvested into the Eskaton community to enhance the lives of seniors.
Christi Nordell is a 5 time Guardian Angel honoree and a very special caregiver at Eskaton Village Placerville. She is honored to attend lunch, along with eight other five time Guardian Angel recipients from eight Eskaton communities and their Executive Directors.
Allan and Gladys Hanson of Placerville, honored Christi with her fourth Guardian Angel pin in August of 2015 stating, "She goes well beyond her job description in doing many other things. Always cheerful!" Shortly after, in October of 2015 Christi was honored with her fifth pin made possible by Harold Gillespie simply stating, "Thank You for all that you do!"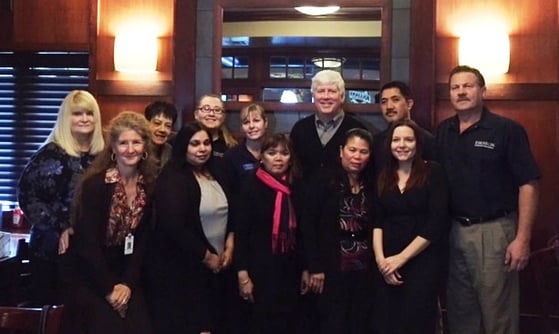 Guardian Angels are recognized in front of his or her peers at the monthly staff meeting where they receive a card informing him or her of the donors' thoughtful gift, and a custom-crafted lapel pin to wear proudly and applause from fellow employees recognizing their hard work. Eskaton employees receiving their fifth Guardian Angel pin are invited to lunch with Eskaton President and CEO, Todd Murch and President of Eskaton Foundation, Kim Rhinehelder to celebrate their outstanding service.
Eskaton Foundation is honored to work with extraordinary employees, volunteers and special caregivers. The gift is tax-deductible and will help fund Eskaton's vital services that enhance the quality of life of seniors.
About Eskaton
Eskaton is a Northern California-based, nonprofit organization with over 45 years of experience. Our dedicated team members provide services and support for nearly 14,000 individuals per year who live in our communities or participate in our comprehensive home support services network.
About Eskaton Foundation
Eskaton Foundation is the philanthropic arm of Eskaton. Eskaton Foundation serves all seniors whether living in an Eskaton retirement community, residing in affordable housing or choosing to live in their own homes.
Check out this article in the Mt. Democrat
What is a Guardian Angel? Watch this video to find out.