In the midst of social isolation, providing meaningful connections for older adults remained a top priority for Eskaton's Community Outreach and Impact division. With the help of many caring individuals and community partners, our mission to enhance the quality of life of older adults was actually strengthened and supported more than ever throughout our senior living communities. Little did we anticipate how compelled people would be to demonstrate their support for elders as they participated in what we referred to as #QuarantineKindness.
While it did present a number of challenges, the pandemic also offered us an opportunity to reimagine the way we engaged with our community. Where we once enjoyed the privilege of welcoming over 2,000 volunteers to our many senior living communities, closing our doors to onsite visitors meant we had to find creative ways others could use their unique and special talents to positively impact the lives of our residents. #QuarantineKindness was the happy result.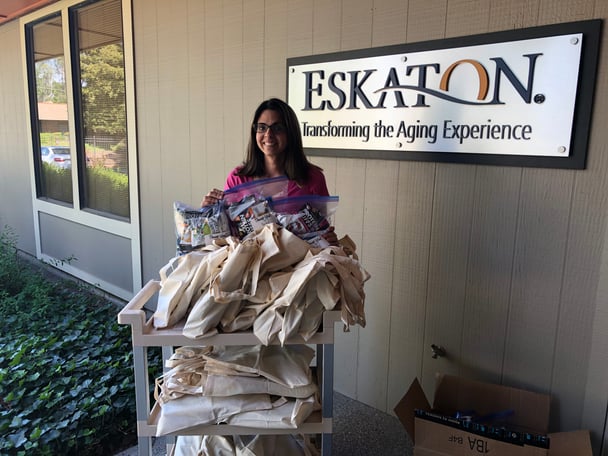 We invited the broader community to participate in three different virtual volunteer opportunities: giving the gift of friendly telephone conversation through Eskaton's Telephone Reassurance Program, sending personal letters of love and encouragement, and creating gift bags to assure residents they were remembered. In the last year and a half, Eskaton has distributed over 2,000 beautiful letters and cards written with care from people of all ages. Moreover, residents have been gifted over 750 care packages containing adult coloring books, watercolors, colored pencils, crossword puzzles, decks of cards, word searches, cozy socks and personal notes.
In addition, our Telephone Reassurance Program has welcomed numerous volunteers who provide friendly, daily phone conversations and wellness checks to older adults, reminding them they are recognized as a valued part of the community. Before the pandemic, Telephone Reassurance volunteers were typically from the Greater Sacramento region. Now we have volunteers from all throughout the United States. As soon as we spread the word that additional volunteers were needed to connect with older adults isolating at home, the response was tremendous, demonstrating the high value of the program and the widespread, deep concern of others about the welfare of our community's elders. Many inspiring and warm friendships were formed as a result of being able to include such a diverse team of volunteers in this exceptional program.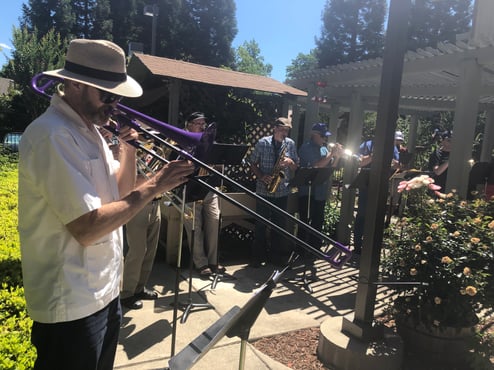 Eskaton has also welcomed virtual volunteers into our communities to provide enrichment activities. These individuals have sprung up from all over the United States and from all age groups and backgrounds, bringing unique talents and providing many meaningful opportunities for residents to stay connected and engaged. Virtual volunteer opportunities have included travel presentations, sing-alongs, French language classes, musical performances, virtual Jeopardy, pet visits and devotionals.
Here at Eskaton, we have been encouraged by the common threads that link all Eskaton volunteers together. They have all demonstrated a commitment to Eskaton's mission of enhancing the quality of life of older adults, they recognize the beauty in the lives of those they serve, and they have discovered the many blessings that flow from their investment in the lives of others.
We remain grateful for the many volunteers who impact our residents and program participants with their joyful and loving hearts. The wide variety of backgrounds, ages and experiences have not only enriched our communities and programs, but have inspired us with confidence. For amidst today's challenges, people have reached out selflessly to spark joy and spread goodwill among those who were deeply impacted by the arrival of COVID-19. The power of generosity remains strong throughout Eskaton, and we could not be more profoundly encouraged by and appreciative of our community!