Eskaton is proud of our unsung heroes and the essential work they do behind the scenes. Whether staff, community partner or resident, we are all working toward the same goals - staying healthy, staying happy and staying connected.
A photograph really is worth a thousand words. In these unprecedented times, one of our most significant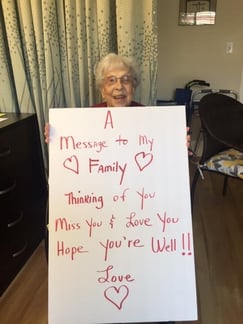 challenges reassuring the families and friends of our residents that they remain safe and cared for. Though they may be physically apart due to social isolation mandates, residents are leveraging technology and social media to bridge the divide and connect with their loved ones with a smile and a message of love. Eskaton has received many messages of thanks and gratitude from family members overjoyed to see the older adult in their life making the very best of a difficult situation.
"Thank you so much for the picture of Mom! It was so wonderful to actually see her. It brought tears to my eyes. She looks great! You guys are doing an amazing job in very difficult circumstances. Thank you, thank you, thank you!" - Daughter of Eskaton Resident
A little love (note) goes a long way. Nothing is impossible when we share the love in our hearts. As the older adults of our community head into their third week of social isolation, school kids from across the Sacramento region are reaching out with a little love and a few jokes, and the impact has been incredible. Through her nonprofit organization "Amy's Smart Girls," Amy Poehler, known for her hilarious characters on Saturday Night Live and countless comedies, sent out the call to the nation's youth, asking them to send a little love and encouragement in the form of letters to the country's most vulnerable members. And Sacramento's kids answered with gusto.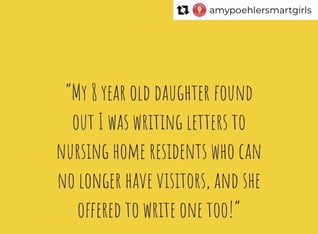 "Right now my whole family is at home, and we have to find things to do. We have been doing a lot of puzzling, scootering, and dancing. I played scrabble with my mom and I got a word that was 45 points! I have been baking many things lately, like cupcakes and cookies. I would love to spread some love during these hard times."
Residents and care partners alike are filled with gratitude and joy at the kind words and uplifting messages the youngest members of our community are sending with open hearts. From tales about sibling bickering and a longing to return to school, to funny stories about pets, these kids are creating smiles that last. Even in uncertain times, there is no uncertainty about the compassion we share for the well-being of older adults.
A little slice of Heaven sent right to our doorstep. Sacramento River Cats mascot Dinger made a few special pizza deliveries to our hard-working, dedicated care team at two Eskaton Care Centers in the Sacramento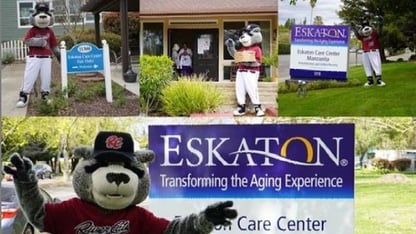 Area. Even now, the community finds ways to support and uplift one another. In recognition of their tireless commitment to the safety and well-being of our residents, the Sacramento River Cats sent their illustrious mascot Dinger to deliver a little slice of heaven (in the form of Round Table pizza from their West Sacramento location) to the doorsteps of Eskaton's most critical care units in the region. Community partners like the River Cats and Round Table Pizza in West Sacramento demonstrate what it truly means to stand together in challenging times.
Local news outlets feature Eskaton's Telephone Reassurance Program when it's needed the most. Local CBS Channel 13 recently highlighted how Eskaton's Telephone Reassurance Program is lifting spirits one call at a time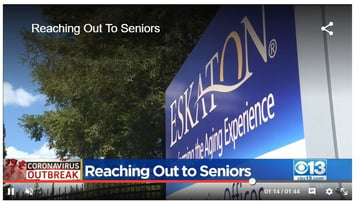 , offering older adults throughout Northern California a way to stay connected during the COVID-19 pandemic, and all year-round. Through friendly, cost-free phone calls, volunteers provide socialization, comfort and connection at no cost to over 500 participants every day.
"The Sacramento community is coming through to help seniors when they need it the most. Local nonprofit Eskaton has seen a surge in the number of people asking to volunteer and chat with seniors at a time when many are feeling lonely."
If you believe that your loved one could benefit from hearing a friendly voice offering reassurance and a little conversation, please visit Eskaton.org/tr or call (866-375-2866).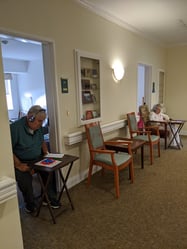 B-I-N-G-O in the hallways of Eskaton. In the effort to keep residents engaged and connected, Eskaton communities are getting creative with everyday activities. Hallway Bingo at Eskaton Village Roseville is just one example of residents and staff working together to have a little fun.
If you have your own stories and positive news from Eskaton, email the creative.team@eskaton.org today!