In 2016, Eskaton began an ambitious conversation to think differently about dementia. Working collaboratively with Live Well, formerly the Alzheimer's Resource Center in Connecticut, we dared to imagine a new way of supporting people living with dementia. We imagined creating communities where relationships flourished and differences are embraced.
Eskaton recognized that the well-meaning person-centered care approach left little room to build relationships based on trust and equality. Innovation is a guiding principle for Eskaton and there was a commitment organizationally to move towards embracing person-directed care, in which we seek the input about the care needs and preferences directly from the person living with dementia.

Eskaton recognized that the true dementia experts are those living with cognitive changes and their voice needed to be included in order to change the way we organizationally think about the disease. The 18-month Well-Being Project included five retreat-style conversations across nine communities. Participants included leadership, care partners, persons' living with dementia and family members. The conversations reflected on current care practices and how labels, stigmas and beliefs limited our current ability to see the whole-person.


Our guiding principles grew from Dr. Allen Power's domains of well-being: identity, connectedness, security, autonomy, meaning, growth and joy. During the two-year journey we looked critically at our own language and practices and how they either support or challenge well-being. Through this journey Eskaton challenged that living well with cognitive change is possible. Eskaton's commitment to move away from biomedical understandings of dementia and reactive interventions for perceived problematic behavior was a needed step to fully embrace well-being.

We reflected that attitudes, labels and the environment are often the source of distress. We now define distress as an expression of an unmet need and not a symptom of dementia. Organizationally, we have redefined dementia as a change in a way a person experiences the world. Shifting how we define dementia is an intentional step to challenge our own preconceptions about the disease and evoke empathy, the core foundation of any trusting relationship.

Although the formal well-being retreats were completed earlier this year the conversation of changing our culture of care is far from over. Eskaton launched our Well-Being Academy in summer of 2018. This 16-hour education series explores living well with dementia and builds upon a strength-based person-directed approach to care. It challenges stigmas, misconceptions, language and reflects on strategies that support well-being.

The Well-Being Academy is built upon the fundamentals of our new overarching Well-Being Philosophy and guiding principles for our Dawn of the New Day Program. The core focus of the philosophy is transforming the way we partner and support people living with dementia.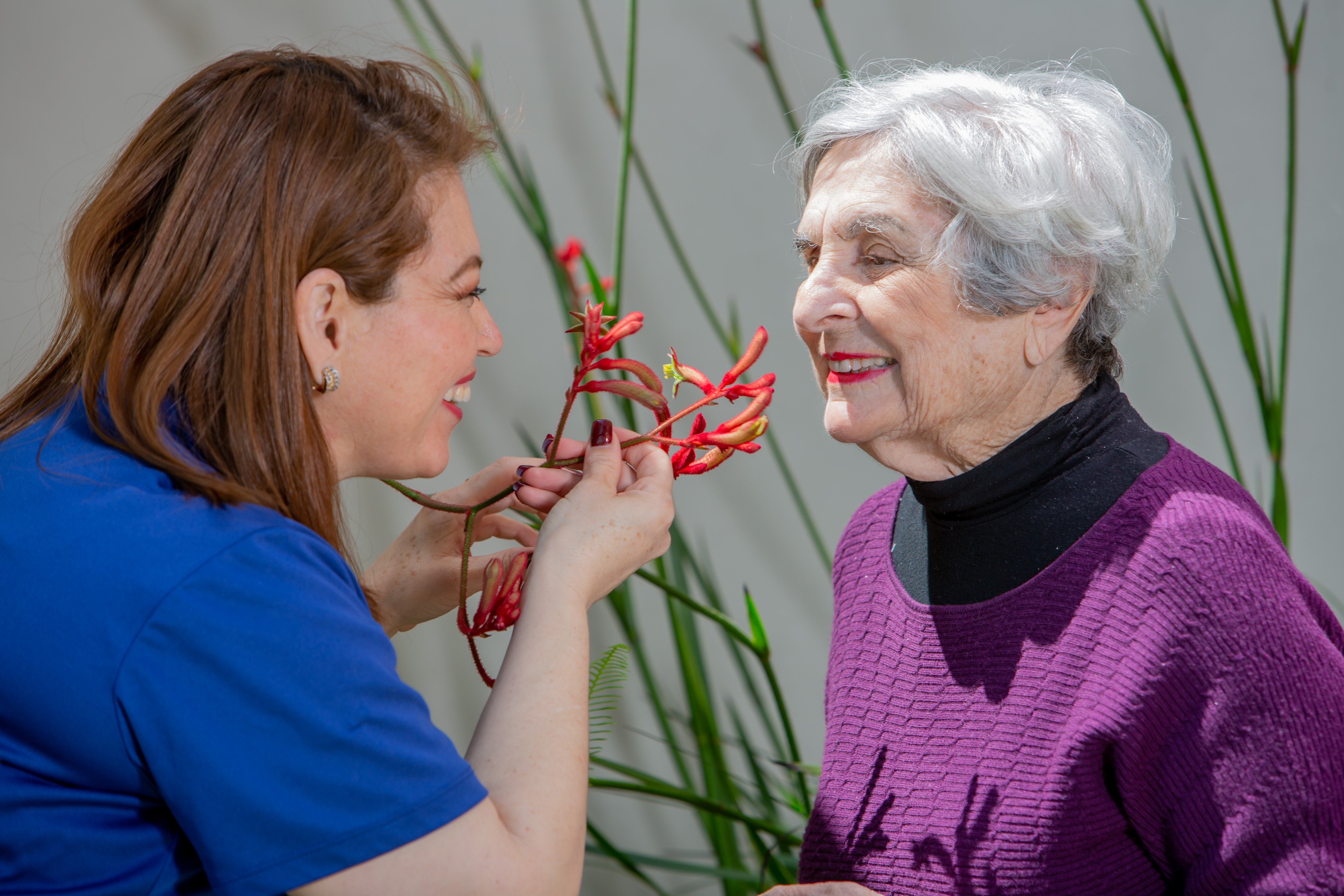 At Eskaton, we believe people living with dementia:
Have unique stories, experiences and perspectives that we embrace and honor
Engage in genuine relationships that are built upon equality, empowerment and respect
Have the right to experience a life of choice, flexibility and control that reflect their needs, preferences and values
Have opportunities to experience meaning, purpose and growth every day
Building inclusive communities where well-being is supported and differences are embraced continues to be a core organizational goal. We continue to grow and learn from one another and build upon the learnings from the Well-Being Project. Communities host quarterly conversations for residents, family members and team members to create a space for new questions, shared learnings and meaningful dialogue.
We encourage you to join the conversation and think differently about dementia. If you or someone you know is living with the disease, know living a life of meaning and purpose continues to be possible in the right environment.
To learn more about the Dawn of the New Day Program, click here.