As a catalyst for change, Eskaton invests in people and local organizations to fulfill our vision of Transforming the Aging Experience. In the summer of 2020, Eskaton joint-ventured with InnovAge and Adventist Health to bring a new 37,000 square foot PACE Center to North Sacramento. This InnovAge PACE (Program for All-Inclusive Care for the Elderly) Center delivers access to a dynamic wrap-around program providing clinical, therapeutic, social and medical support to older adults who are living on limited incomes and at-risk for institutionalized care. An alternative to nursing facilities, participants can obtain geriatrician and clinic services, dental services, adult day healthcare, social engagement, nutrition services, transportation and more.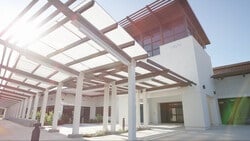 Todd Murch, president and CEO of Eskaton, states, "PACE is undoubtedly the best community-based program available to provide healthcare and social services to seniors who would otherwise not be able to live at home. Eskaton is proud to collaborate with Adventist Health and InnovAge to bring this new center to the Sacramento region. The innovation and scale InnovAge's PACE centers bring to communities like Sacramento is desperately needed to provide quality of life for seniors, reduce hospitalization and healthcare costs."
Meet Charlotte, an Eskaton Affordable Housing resident at Eskaton Natomas Manor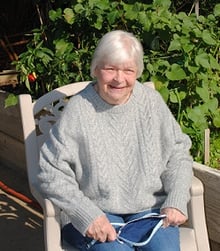 who recently enrolled in the InnovAge PACE program. After 49 years of residing in Southern California, learning to live independently in an unfamiliar city was a big change for Charlotte, but with the help of the staff and fellow residents at her community, she soon felt at right at home. Over the last few years, she started to experience a number of health issues, and she began to contemplate who would assist her when she wasn't able to take care of all her needs on her own. When representatives from the PACE Center visited Natomas Manor in July of 2020 to inform the residents of the unique services and resources available to participants, Charlotte realized it was the perfect solution to her worries and became an official member at the beginning of September this year.
The ways in which the PACE Center has improved Charlotte's overall quality of life are numerable. Instead of having to visit several different specialists spread out across the Sacramento region to address her various ailments, she is able to access the medical services she requires at one location, a great relief to someone with mobility concerns like Charlotte. The center has even paired her with a number of specialists who made "house calls" to Charlotte's residence in order to assess her living space for potential fall hazards and to assist her with housework that had become too difficult for her to manage on her own.
"The PACE Center is exactly the bridge I needed to stay independent and living in my own home. I'm so happy I made the decision to join," Charlotte says.
To learn more about InnovAge and the new PACE Center, visit our website.