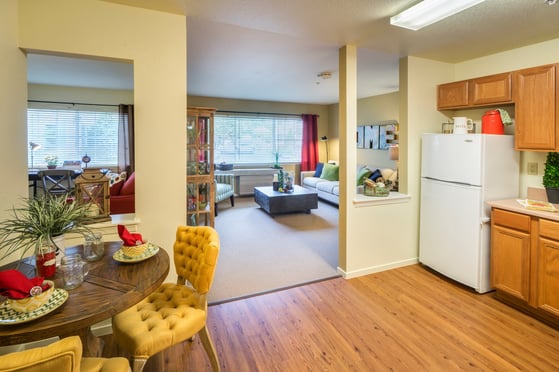 Living with dementia can be a difficult journey, both for the person living with the disease and their care partners. There is currently no cure but there are steps you and your loved one can take to live well even with a diagnosis. If you have dementia or have a loved one with dementia it is important that you plan for both present and future needs. Living well with dementia is possible with the right supportive environment. Staying connected and engaged with the people and things that matter most to you have been shown to improve health and well-being. But there may come a time during this journey that you and your loved one may need additional support.

Families often struggle to decide when additional support is necessary. The answer is different for each family but there are some guidelines you can follow to help with the decision making process. Additional support may be necessary when your loved one needs additional support with every day tasks, no longer feels comfortable being alone, and/or when the family care partners are struggling with meeting the unique needs of the person.
Trouble completing daily tasks
The ability to complete complex tasks can become more challenging for a person living with dementia. Tasks like preparing a meal, showering, getting dressed and going to the bathroom are complex tasks and can become more challenging and confusing for someone living with dementia. Providing reminders, guidance and cues for completing these tasks can be helpful but may become overwhelming for family care partners, especially for those who are not physically present at all times. Creating environmental cues and reminders can be helpful at the beginning but there may come a time in the journey when the support and guidance of a professional care partner is needed. If you have a parent who needs additional support to complete daily tasks then you and your loved one should consider either in-home support or assisted living that offers dementia care.
Concern about being alone
Although memory loss can be challenging, often sensory changes are the most disconcerting changes for the person living with dementia and their care partners. For example, the person may experience changes with vision because the brain is not interpreting the information they are seeing correctly. Additional changes may include becoming hypersensitive to noise and experiencing changes with touch, taste and smell. The challenge with sensory changes is a person may not be able to differentiate between hot and cold and may not know when the stove is on or when it is appropriate to wear a jacket on a cold morning. Also when a person experiences changes in smell he or she's appetite may decrease and therefore may not be triggered to eat when he or she is hungry. Living at home without support can be challenging when you are living with sensory changes. Providing reassurance and eliminating environmental threats are helpful but if you are at the point when these techniques are no longer helpful and you no longer feel comfortable leaving your loved one alone then it is time to consider in-home support or assisted living that offers dementia care.
Needs are more than family can provide
Living at home can be a positive environment for a person living with dementia. But as the disease progresses it may become more difficult for the person to live well at home alone. Oftentimes it is difficult for family members to provide around the clock support that a person may need to live a purposeful and meaningful life. Assisted living with dementia care provides a supportive environment that takes into consideration the diverse needs of each person. From design to education these environments are created to ensure each person living with dementia can continue to thrive and live well. Often moving into a supportive environment provides family members with the gift of quality time with their loved one.
Each person's experience living with dementia is unique and different. It is difficult to know when additional support may be needed for your loved one. When additional support is needed options include either in-home care or assisted living with dementia care.