Barbara Duffy, RN, MSN is an Eskaton Guest Blogger and Trauma Clinical Nurse Specialist at Kaiser Permanente South Sacramento.
A little over a year ago, I was saddened to learn that the father of a close friend was hospitalized with a head injury after sustaining a fall. He was an active man, well-liked, and known in the community as a reliable business leader. News of his fall hit close to home and I knew I needed to become more active in the prevention of falls.
As the Trauma Clinical Nurse Specialist at Kaiser Permanente South Sacramento, I decided to use my expertise to help prevent falls in my community and to reduce the number of seniors who are admitted to the hospital because of a fall.
Kaiser Permanente South Sacramento is a Level II Trauma Center and we care for the most critical patients. Twenty-five percent of patients that show up to the emergency department do so after sustaining a fall. Falls occur almost equally in males and females, and the greatest number of falls occur in the bathroom, as a result of slips and trips.
"Falls Prevention Awareness Week," held during the month of September and coined by the National Council on Aging (NCOA), is a perfect time to commit to making lifestyle changes to prevent a fall. The NCOA even offers a tool to assess your risk. You can participate in the NOCA Falls Free Checkup and share the results with your doctor.
In addition to assessing your risk and consulting your doctor, you can make some simple changes to help you avoid a fall:
Assess your physical state - How is your balance, vision, and hearing?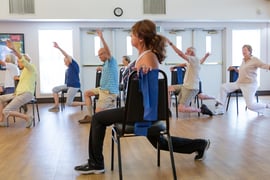 Do your medications make you dizzy? Strength and balance are important to remain fall-free. Consider joining an exercise class. There are all sorts of balance and core-strengthening classes and many can be done sitting in a chair. Kaiser Permanente supports balance and movement classes at the Sacramento Ballet and the YMCA. Both have virtual class options now that facilities are closed due to the coronavirus.
Assess your behavior - Are you taking unnecessary risks? It's better to ask for help from a family member or friend and prevent a dangerous situation. Don't be embarrassed to discuss your concerns.
Assess your environment - Look around your living spaces for fall hazards. Are you reaching for something on a high shelf? Are there rugs, cords or magazines that may cause you to trip? Think safety and prevention.
Stay safe!