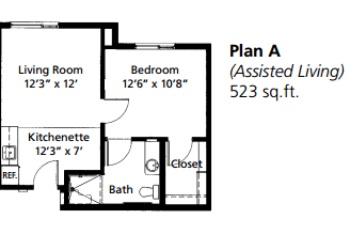 Finding the perfect floor plan for an independent living community can be a fun time — or a difficult one. It can be hard to find the perfect layout that has the availability that you want, but with a little planning, you can find yourself in your dream home.
Finding the Right Floor Plan at the Right Senior Living Community
Tour multiple options
Look at every floor plan that you might be interested in. Look at the pros and cons, but also look for one that feels like home. If you can see yourself living there, then it's likely the right place. Don't settle for anything less.
Plan ahead
The earlier you look at apartments, the easier it will be for you to get the one you want. Waiting lists can be long, depending on the community you choose. If you have a floor plan that you love, you'll want to put your name in as soon as possible.
Ask about availability
There's always a chance that you can nab the place you want immediately. It's rare, but it can happen. Asking directly can also give you an idea of how long the wait will be.
Get on the right waiting list
There are different types of waitlists. If it's an immediate need, you'll want to be on the shortest waiting list possible, which may mean that you won't get your preferred layout. If you've found your perfect layout but have a few years before you want to make the move, then ask if you can be on a waiting list where you do not have to accept the apartment if it becomes available too soon. This gives you a little cushion to take care of whatever you need to do before the move.
If you follow these tips, your perfect floor plan will soon materialize into your new home. Don't wait; get started today to figure out your best course of action.