In 2016, Megan Gallagher had a busy year. She completed a Licensed Vocational Nurse program and was promoted to wellness nurse by Kim Delgado, executive director, Eskaton Lodge Granite Bay.

Megan (center right) with her team at Eskaton Lodge Granite Bay (ELGB)
Megan wants to be an emergency room trauma RN, doing Life Flight. She chose a job in long-term care for the practice. While the ER is a future goal, Megan is enjoying her Eskaton experience. She loves hearing resident stories and learning about their lives. "They become family," said Megan. "Eskaton Lodge Granite Bay is a great place come to work. It's different every day."
Megan started at Eskaton Lodge Cameron Park and transferred to Granite Bay in 2013. While she attended college, she worked two jobs. "Kim Delgado always had it in her mind I would be a nurse in the building," said Megan. "If she didn't keep pushing me I probably wouldn't have done it."
Megan's recipe for success; Find the position you want at Eskaton and talk to that person about what it takes to work up to that job. "Eskaton offers a lot of room for growth," said Megan.
"Megan is an amazing support for ELGB, not only for the residents but staff as well," said Kim Delgado. "She is incredibly dedicated to Eskaton and the care provided to our residents. It has been a lot of fun watching her grow from care to meds to wellness nurse. I'm excited to see where she grows to next."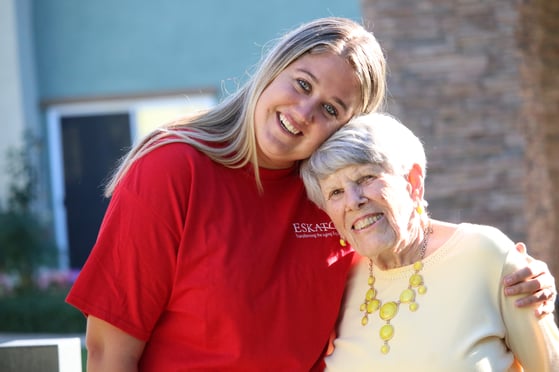 Megan with Betty Dawson, resident