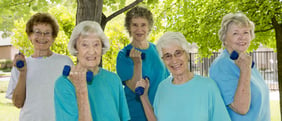 Once we hit retirement age, it's now time where we can relax and indulge in a slower pace of life. However, to stay healthy and happy, you still need to remain active and build your social circle. Both of these can be done at the same time too.
Staying Active and Social in Retirement Years
There are plenty of ways you can stay socially connected, intellectually stimulated, and physically and mentally engaged as you move into retirement. These are just a few of them.
Exercise
Anyone at any age can benefit from exercise, but for older adults, it's even more vital. It keeps you moving and staying limber so you can enjoy all the other activities. Exercise is a great way to help keep your muscles, bones, heart and mind healthy and strong. Better yet, take a walk with a friend, which is great for your heart and keeps you engaging in your social circle.
Get a Part-Time Job
A part-time job while you are in retirement is not only a great way to preserve your savings, it can help you engage with other people. Try something new and meet new people to add to your social circle.
Participate in Senior Living Community Activities
If you live in an assisted living community, independent living community, or continuing care retirement community, you can participate in their educational, recreational, and social events and activities, as well as other cultural events and activities that are resident-driven. Joining crocheting and knitting classes, a paint-out in the garden event, or a bird-watching group are all possibilities.
Make Friends with People Who Enjoy the Same Things
Take opportunities to strike a conversation when attending events that involve your passions.
Continue to Meet New People
You should make it a habit to continually meet new people that you can add to your circles. Locate different places where it's easy for you to just walk up to a person and introduce yourself. Places like this could include: trade shows, charitable events, galas, religious and cultural events, and seminars.
Join a Club
Find a local club where you can take up your favorite hobbies and meet people with similar interests. If you already live in an independent living community, this is simple. But if you haven't made that move yet, you can visit your local library, local senior center, or agency on aging to find what types of groups meet there.
Volunteer Your Time
When you are working for a cause or helping others, it's a great way to feel good about yourself and connect with other older adults. You can even volunteer work or participate in activities at your local senior center.
Take Senior Trips
Organizations like the local senior center or AAA often sponsor senior trips. Some trips are for an afternoon or evening out while others can last for days. Destinations range from historical sites and casino outings to theater events.
There are a plethora of ways for you to stay active during retirement and build your social circle. So take advantage of them, and enjoy engaging with interesting people and experiencing an active social life.
Eskaton communities in the Greater Sacramento area are transforming the aging experience by providing a broad range of choices, activities, and life enriching programs to enable residents to live a vibrant, connected life. Contact Eskaton or give us a call at 866-684-6554 to learn more.