Anne's family traveled far and wide to be with her on this special occassion. Grandchildren and great-grandchildren came from Florida, Nevada and Southern California for the joyous celebration at Eskaton Lodge Gold River, just outside Sacramento.
Pictured below: Anne surrounded by two sons and their families. She is a proud great-grandmother of nine.
Anne spent her life in New Washington, a village in the Cranberry Township of Crawford County, Ohio. She raised her three sons in Ohio and worked in detail oriented jobs from file clerk to janitorial.
Don, Anne's oldest son, remembers Christmas during his childhood as a festive time with an old fashioned tree. He married and moved to California at the young age of 20. Over the years, his family has grown (pictured below). His children have precious memories of their grandmother who moved to California to be closer to them and his brother Ken's family.
Ken, Anne's youngest, remembers when he was 14 and she let him buy a 1962 Corvette. "We ate a lot of beans and hamhocks that year," said Ken. In 1965, they sold the family home for $5,500 and the Corvette for $3,500 which Ken put a lot of work into. In fact, the entire family has a love of Corvettes and they are very proud of the fact that Anne drove until she was 90 years old.
Pictured below: Ken, his wife Connie and their children and grandchildren with Anne on her 100th birthday.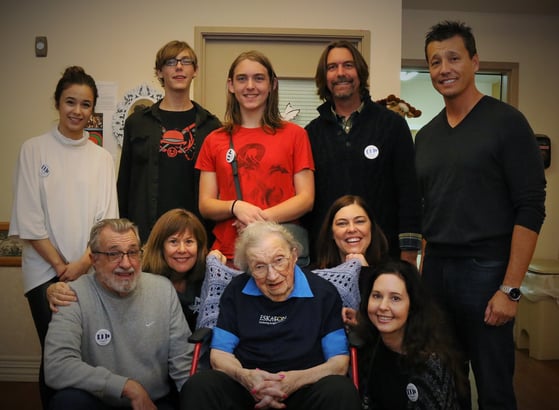 Happy Birthday Anne from everyone at Eskaton. You and your family bring us joy!