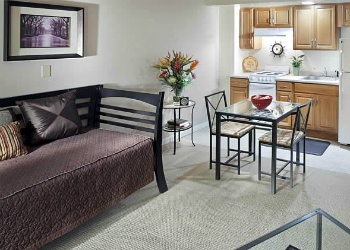 If your senior parent is making a move from the family home to an independent living community, it can be a stressful time for both of you. Here are some tips for you to help your parent ensure a smoother transition, even if you live miles away.
Helping Your Parents Move From a Distance
Decide What To Do With The House
It helps to begin to think about what to do with the family home even before your parent moves to an independent living community. Your mom or dad shouldn't have to carry this burden alone, so offer to take care of this task.
Options include finding reliable renters after your parent moves out, or possibly putting the house up for sale and working with the realtor. Selling the house can help your parent finance new living arrangements, so perhaps selling it before moving is the best option.
Help Sort Your Parent's Belongings
Going through personal items isn't just hard on seniors physically – it can also be difficult emotionally. Your parent might be moving into a senior living community that has less space and storage.
Since your parent might not be able to take all cherished items, it can be hard to do the sorting and downsizing alone. As your parent is going through his or her belongings, have a phone call so you can talk about what should be kept or given away.
Arrange Moving And Packing Services
After your parent has sorted through his or her belongings, hire a packing and moving service. This is another thing that may be too much for your parent to handle on his or her own. You are probably taking care of a lot of the moving arrangements, so you know the dates and times already. Many moving companies offer a full service option, which includes packing and unpacking, and will be a great help during this time. What's more, there are now senior move managers that you can employ to handle almost every detail of moving your mom or dad to an independent living community.
Help Your Parent Get Ready To Set Up The New Home
Suggest that your mom or dad take pictures of the existing home before everything is packed up. These photos will enable the movers to set up the new home as closely to the pictures as possible. Details as small as having family photos together on a wall in the same way they were hung in the old home or having your figurines in the right order can provide a sense of serenity and comfort in the new space.
Moving can be a stressful experience, regardless of your age. By following the above tips, you can find comfort in helping your senior parent move to a new home even when you are miles away.