Homeless veteran gains attention of El Dorado County Homeless Outreach Team, also known at HOT. Eskaton partnered with HOT and local nonprofit organizations to help Navy veteran secure affordable housing in Placerville, California.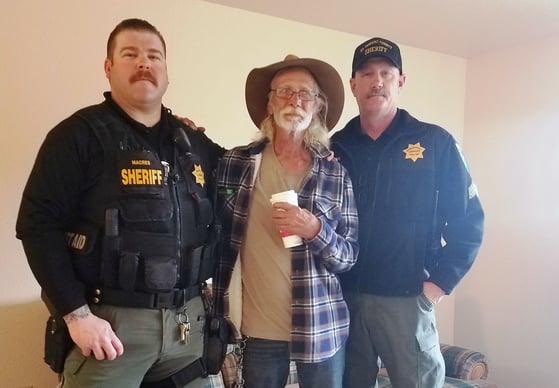 Living at a strip mall for five years was tough on Keith Lozier, both physically and emotionally. Although this 66 year old Navy veteran was forced to sleep in a wet tent during the winter months, Lozier tried to bring joy to the patrons of the Cameron Park Shopping Center, tucked in the foothills of Northern California Gold Country.
"He would hold up a 'Smile' sign and everyone knew who he was," said Sherriton Kerr, social service coordinator at Eskaton Lincoln Manor in Placerville. Law enforcement officers often saw Lozier picking up trash in the parking lot. He caught the attention of Sheriff's deputies and they looked after him.
When an apartment became available at Eskaton Lincoln Manor, the Sheriff's department of El Dorado County jumped into action and helped facilitate Lozier's application. Their Homeless Outreach Team, "HOT," worked closely with the Military Family Support Group, Only Kindness, and Eskaton to secure Lozier's name on the wait list. "With an affordable housing shortage for seniors in California, wait lists can easily be two to three years," said Elizabeth Catron, executive director of Eskaton Lincoln Manor. "We have a special priority for homeless. Once Keith was on the list, an apartment opened up within a few months." Lozier is now one of several previously homeless residents occupying a limited number of priority apartments.
Kerr is involved in a program at Eskaton Lincoln Manor for people in need of donations such as furniture, dishes and linens. She was able to furnish Lozier's entire apartment with a new bed, couch, end tables, flat screen TV, and more -- "90% of what was donated to Keith was from Eskaton," said Kerr.
Eskaton Lincoln Manor, home to more than 100 seniors, is one of 13 affordable housing communities Eskaton manages in Northern California. The nearly 1,000 Eskaton apartments are subsidized by United States Department of Housing and Urban Development (HUD.)
In early 2017, Lincoln Manor was honored to receive the Communities of Quality recognition by the National Affordable Housing Management Association. "Our community won because staff are dedicated to making Eskaton the best place for older adults to live," said Catron. "We set high standards in all areas of our operations -- business office, maintenance, housekeeping, customer service, resident relations and social service coordination. Sherriton helping Keith settle into his new home is a shining example of the great work she and her co-workers do every day."