Living on the streets and in homeless shelters is something that a senior citizen should never have to endure. Although Cynthia, 68, lived on the streets for over eight months, she didn't disconnect from her community and she never gave up hope. In spite of hardship, Cynthia became an amazing advocate for the homeless and instrumental in providing Eskaton with additional resources for seniors as she became aware of them herself.
In May 2012, Cynthia began receiving regular phone calls from Eskaton Telephone Reassurance volunteers. Our volunteers spoke to Cynthia often and became concerned for her safety when they learned she was to lose her home in Sacramento. Although, Cynthia was in and out of shelters at night and spending her days on the street, her cell phone allowed our volunteers to stay in touch. While eight months on the street is hard to fathom, Cynthia overcame horrible circumstances and has now gained permanent housing at Eskaton Lassen Manor, an affordable housing community in Susanville, California. She was willing to move over 200 miles for a safe home that she could afford.
Read Cynthia's story:
My name is Cynthia Spurling. I was recently homeless. Like many seniors, I was hit with substantial rent increases. I was sleeping in shelters and by churches. I worked very hard to find services and advocate for better services for seniors in the Sacramento Area. I went weekly to the City Council and Board of Supervisors to advocate for increased support for homeless seniors. Seniors are the quickest growing homeless population because of rent increases.
Eskaton Telephone Reassurance kept track of me. They helped me connect with other Eskaton housing, even before I was homeless. Linda Whiteside, director of Telephone Reassurance, was wonderful. She would email me addresses and information for services. They were a ray of hope; when a lot of other things were disappointing, they were someone who cared. Telephone Reassurance emailed me a list of Eskaton's affordable housing which gave me hope that I could find somewhere to live. I applied at all the Eskaton affordable housing communities.
The first Eskaton affordable housing community to have an opening was Eskaton Lassen Manor in Susanville. I took that opportunity. With help from my Pastor from the church where I was sleeping, I was able to move to Susanville. A bright light out of the sky brought me to Eskaton Lassen Manor which is now my home.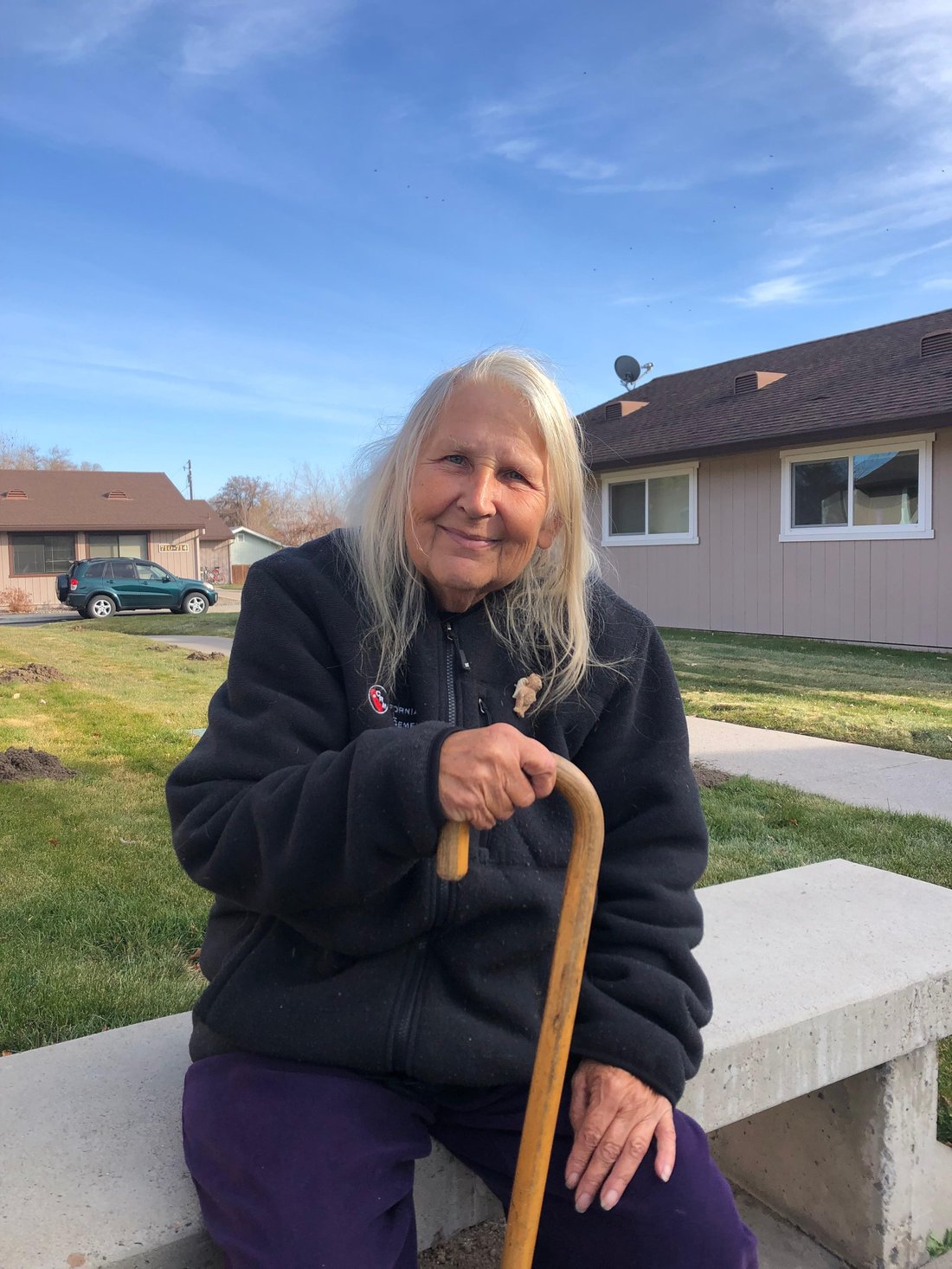 Cynthia at her new home, Eskaton Lassen Manor in Susanville, California.
Eskaton manages more than a dozen independent, affordable apartment communities throughout Northern California.
For older adults with limited incomes, rental assistance is offered through the U.S. Department of Housing and Urban Development (HUD) and other public agencies at most of Eskaton's Manor locations. Professional on-site staff provides support, activities, maintenance, security, and social service coordination in an independent setting.
Each affordable apartment community has its own leasing office and application process. Please contact each property directly if you would like to rent an apartment at one of Eskaton's affordable communities. Click here for a list of low-income communities managed by Eskaton.