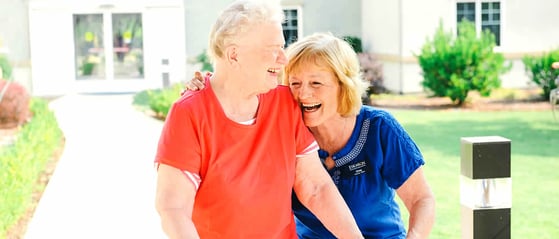 Choosing a senior living community involves more than just cost and availability. While these two aspects are important factors, living your best senior life means finding a community that fits you as a person.
Just like every neighborhood has its own identity, so do senior living communities. You want to find a community where you have access to activities, events and the kind of entertainment you enjoy; where you can make friends and be yourself; and most important, where you feel at home.
What to consider when looking at senior living communities:
The People. Find a place where you connect to people and feel comfortable. Would you enjoy being surrounded by a community of former business leaders who can't wait to sign up for the next committee or a bunch of go-getters seeking the next adventure?
The Environment. What surrounds the community? Are there nearby activities? Do you have access to transportation? Are the area's characteristics, offerings, and climate, suitable for you? Do you want to be near a bustling city center or within a quaint suburban community?
The Culture. Are you looking for a community where there is a strong focus on the arts and cultural events or would you rather be at a community on a golf course? If you enjoy volunteering, find a community that is focused on organizing volunteer efforts.
As you tour communities, you'll notice each community has its own identity and characteristics.
Find the perfect fit for you by looking for that senior living community that matches your interests and desires for retirement, and where you can't wait to make new friends.
At Eskaton, you gain a full complement of hospitality-style amenities, such as restaurant-style dining, friendly staff and transportation to shopping and appointments. Some communities also feature indoor swimming pools, fitness centers, salons, putting greens and ongoing cultural and recreational activities. For more information or to schedule a tour of one of our Eskaton communities, contact us at 888-684-6554.