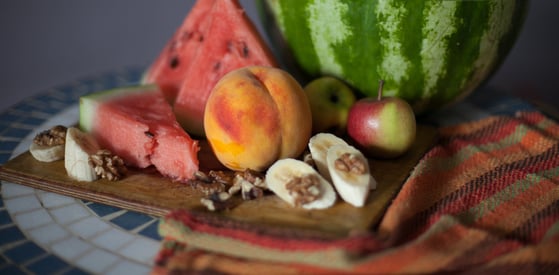 Are you a snacker? You just can't get through the day without snacking!
Have you considered making snacking part of your daily dietary intake? Yep, make it healthy and build it into your day -- every day! No more trying to avoid a quick handful or two of this or that. No more guilt.
Make Snacking Healthy
Science has proven that eating small amounts of healthy foods throughout the day is the best way to curb cravings, limit hunger and avoid overeating come meal time. Experts say in addition to three healthy meals, you should also consume three snacks: mid-morning, mid-afternoon and after dinner.
The goal is to never go three waking hours without having a small bite to eat. However, you must follow the golden rule!
What's the golden rule? Keep each snack to 125-150 calories or less. You pick the three snacks every day, just stick to the rule. Whether you choose an entire cucumber and cheese or just five thin potato chips, that's where you have to step up to the plate and make the right choice.
Snacking can be healthy and simple. No need to spend hours cooking or baking. These snacks can be easily grabbed for those who are always on the go.
Easy Healthy Snacks
Graham Dippers
Spread ¼ cup low-fat ricotta cheese on top of one graham cracker and sprinkle with cinnamon. With only 115 calories and 4 grams of fat, this snack has 8 grams of protein to help you stay fuller, longer.
A Simple PB&J
Use (or toast) one-half of a sandwich thin and spread with 2 teaspoons of peanut butter and 1 teaspoon of jelly. It's a 140-calorie snack with protein, fiber and heart-healthy source of monounsaturated fat.
Oats & Berries
Oatmeal isn't just for breakfast - it can be the perfect snack any time of day. Top a 1/2 cup of cooked oats with 1 teaspoon of honey and 1/4 cup of blueberries for an antioxidant-rich treat. For only 140 calories, you gain 4 grams of fiber.
Swiss Olives
Seven olives and one slice of swiss cheese is about 140 calories. Olives have heart-healthy monounsaturated fats and a high oleic acid content, found to help reduce the risk for cardiovascular disease.
Choco-Nana
Try an energizing combo of a magnesium- and potassium-rich banana with antioxidant-rich dark chocolate. A 1/2-ounce square of chocolate and a small banana has about 140 calories and 5 grams of fat.
Cucumbers & Cheese
Slice up a cucumber and spread the slices with 2 tablespoons of cream cheese for about 150 calories.
Berries with Cream
A ½ cup of strawberries with 1 cup of non-fat Greek yogurt, topped with 1 teaspoon of honey creates a creamy, low-fat, high-fiber treat that's only 140 calories and chock-full of protein.
Looking for an active, healthy lifestyle amongst your peers? Check out an Eskaton Independent Living Community.
At Eskaton, you gain a full complement of hospitality-style amenities, such as restaurant-style dining, friendly staff and transportation to shopping and appointments. Some communities also feature indoor swimming pools, fitness centers, salons, putting greens and ongoing cultural and recreational activities. For more information or to schedule a tour of one of our Eskaton communities, contact us at 888-684-6554.