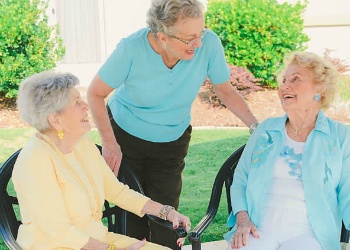 Ah, college. The days when we first exercised our independence without really having a clue what we were doing. We enjoyed the freedoms of our own decision-making, opportunities around every corner, social activities nearly every night, and delicious food we didn't have to make.
Want to experience those days again? Maybe not exactly those days, but something similar?
Experience Your Life the Way You Want
Independent living, sort of like college, is an opportunity for you to experience life the way you want to -- on the schedule you set. You are not tied to the schedule of a job, the tasks of caring for a home or the many responsibilities involved with raising children.
Like college campuses, independent living communities are designed to offer hospitality-style amenities, giving you the time and freedom to embrace opportunities and the things you want to do each day. Living life to the fullest is part of the reason you went to college and worked all those years.
Activities, Events & Social Opportunities
Independent living communities also have weekly, if not daily, calendars full of activities, events and social opportunities. They exist to not only to help seniors connect and expand their social lives, but to also add enrichment. Activities such as Eskaton's "Thrill of a Lifetime" often generates anticipation and excitements as residents gain opportunities to experience new things.
But college wouldn't be complete without the education, right? Instead of pulling all-nighters to finish that big term paper, you can participate in intergenerational learning programs where you are paired with a student "buddy." Together, you read, create arts and crafts and build a relationships. It can be an educational experience and fulfilling connection for both you and the student.
Building Friendships and Connections
One of the best parts of college is the close vicinity of friends. It means smiles, laughter and support are nearby at all times. The same is true for an independent living community, where you build connections and friendships with your neighbors, other residents and the staff. That connection to the people you see nearly every day and your surrounding community helps create engagement and purpose in life.