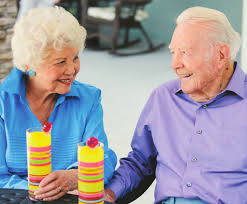 When deciding on whether your loved one should move into an assisted living community or a nursing home, you might be thinking they are pretty much the same. While there are some similarities between the two, there are also quite a number of differences.
They both share goals that are similar, and in many cases have common services and amenities, such as spiritual offerings, yet they are still very different. Which one you choose will depend on your loved one's mental state, medical needs, and personal requirements. If your loved one no longer feels comfortable or safe living in their own home, it's time for you to do a little research and decide which is best: an assisted living community or a nursing home.
Assisted Living Communities
Assisted living homes consist of private rooms or apartments and enable your loved one to bring along their own decorations and furnishings, and sometimes even their pet. These homes offer some aspects of independent living, while offering assistance among a supervised community. This is perfect if you are looking for a little bit of independent living for your loved one with a touch of social environment and community.
There are some personal care services offered most assisted living homes, but mostly, the staff and aides respect your loved one's privacy and foster an atmosphere of autonomy and independence whenever possible. Many assisted living communities also foster a commitment to wellness and have a number of life enriching activities and programs. Amenities and services include laundry service, shared meals, transportation options, and light housekeeping, typically.
Nursing Homes
Nursing homes typically offer hospital-style rooms (that are often shared with another person) with separate dining and communal living areas. Nursing homes don't generally focus a great deal on excursions and activities.
Nursing homes, unlike assisted living communities, provide 24/7 medical attention. If your loved one requires a lot of help with daily living activities, suffers from debilitating medical issues, or has severe cognitive impairment, they may need this level of care. Nursing homes offer help with daily living tasks, such as bathing and grooming assistance (including beauty and barber shops), help with dressing, and toilet assistance if needed, as well as skilled nursing and inpatient rehabilitation programs.
So, the question still remains: which type of home is best for your loved one? There are benefits and drawbacks of each. The challenge is deciding what level of care your loved one needs and choosing the right home based on that. You might want to consult with their doctor first to go over all the details of their healthcare needs before deciding.
Eskaton offers both assisted living and skilled nursing and rehab options. For more information about Eskaton, contact us at (888)-684-6554.