Ruth Duff, LaVon Browner and Irene Lester are three of 12 resident artists who showcased their creations at Eskaton FountainWood Lodge's Taste, Sip and Stroll art show in June. Over 80 pieces of art were enjoyed by art lovers from all over the area.
Ruth, 102 years old, says she can't remember when she wasn't creating art. "I've always liked making things look pretty," she says. Her talents also include sculpting bronze castings, copper etchings and silk screen. As a prolific artist, Ruth's age hasn't slowed her down. Recently she completed 300 watercolor and acrylic paintings, which feature bright, bold colors.
LaVon, a close friend of Ruth, has dozens of her acrylic paintings on display in her apartment. Although she doesn't paint any more, she has fond memories of the European-inspired landscapes she captured throughout the decades.
Irene worked out of her studio and gallery in Fair Oaks for years. She is known for her lifelike chalk pastels of birds and animals, and has been featured in several magazines. Many of her framed pieces adorn her apartment walls.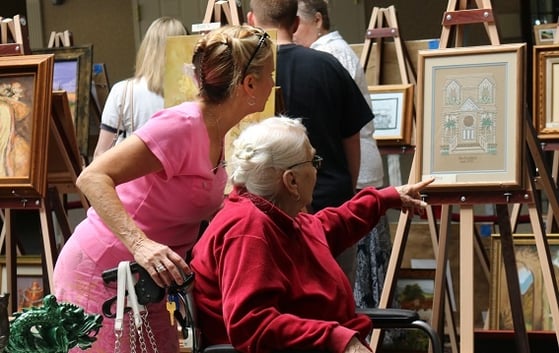 Ruth's advice to people who are intimidated by the thought of trying make art: "Do your best and ignore the rest."